Rihanna Could be Releasing 'Anti' Album on Christmas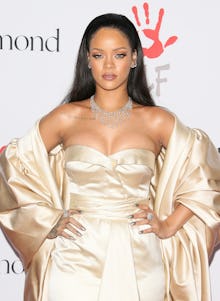 JB Lacroix/Getty Images
Rihanna, where are you? The 27-year-old Barbadian pop star has yet to release her eighth forthcoming studio album Anti, though speculation has remained rampant across social media. The latest rumors to circulate the web are reporting Rihanna may be dropping her album on Christmas Day.
Could it be true? It might make sense — when Beyoncé surprise dropped her self-titled album in December 2013, it was a massive success, shattering sales records and recording the second-largest digital sales week for an album ever, Billboard reported. However, to be perfectly honest, nobody has a chance in hell at guessing when Rihanna will drop Anti.
This week's speculation comes from a tweet posted by Australia's Today show, since deleted, which read: "@Rihanna has an extra special Christmas present for her fans, releasing her 8th studio album "Anti" tomorrow. #Today9." However, it remains unclear whether the tweet was accidentally published, or whether the show has some sort of clue as to when Rihanna's next project would become available for the masses. 
If Rihanna does release Anti on Friday, it would mean she was working on the project up until the last minute. Sia recently discussed a business meeting she had with Riri on a radio program, in which the two sat and listened to upward of 25 songs Sia wrote and helped produce for other singers to use on their albums. Rihanna chose four from that session, though Sia said she isn't exactly sure if those will appear on the forthcoming project, as Mic previously reported.
Who knows when Anti will be released by Rihanna — but with the latest rumors circulating just in time for the holidays, Rihanna's navy will certainly be checking up and down their chimneys for a surprise present.