Rise of Islamophobia Made This Mosque Worker Scared to Open a Tin of Christmas Cookies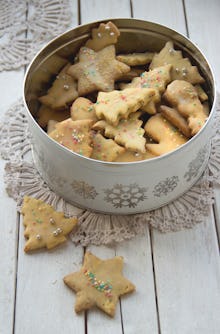 Fearing the rise of Islamophobia and anti-Islamic sentiment in recent months, an Alabama mosque worker just couldn't bring himself to open a tin of cookies left on its doorstep, the Associated Press reports.
On Thursday, Ashfaq Taufique said that an office manager found a tin of cookies and an envelope on the steps of the Birmingham Islamic Center. Not wanting to discover if the tin contained something dangerous or threatening, he called the police. 
While the tin might not seem onerous, a recent string of threats against mosques worldwide has many Muslims on high alert. Earlier this week, students at a Muslim school in the United Kingdom found two severed pigs' heads on school grounds. People threw a severed pig's head at a Philadelphia mosque earlier this month, while a student in an on-campus mosque in Australia found a severed pig's head stuffed in the toilet. 
The envelope left with the tin contained a phone number, which the police officer called. After discovering that the cookies were left by a woman wanting to share the joy of the season with the Birmingham Muslim population, Taufique told the AP that he will make plans to invite the woman to dinner — and eat the cookies.