Three Being Treated After Shots Fired at North Carolina Mall, Shooter Reported Dead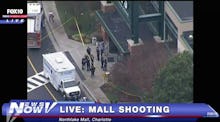 Police are reporting that a gunman opened fire at the Northlake Mall in Charlotte, North Carolina on Thursday. According to a New York Daily News report, three people were being treated. A total of seven gun shots were reportedly heard before the shooter was killed by police, according to WBTV.
The incident reportedly began near an Apple store in the mall at about 2 p.m. EST. One store manager told CNN that at least one person had been shot in an altercation. 
One person reportedly suffered a leg injury, another went into labor and a third had an asthma attack, according to the Charlotte Observer. 
"I had no idea what to do so I grabbed my mom, dropped my stuff and ran out of the store," Caryl Santos, a 20-year-old college student, told the Observer. "It was so terrifying." 
While the identity of the gunman remains unknown, WSOCTV tweeted that the perpetrator appeared to be connected to law enforcement.  
The attack coincides with Christmas Eve, one of the busiest shopping days of the year. Immediately after the attack, a witness to the shooting uploaded this firsthand account online.
This is a developing story.