Humans of New York Raises Hundreds of Thousands for Syrian Refugees in Just One Day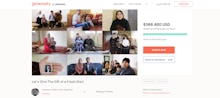 Brandon Stanton, the man behind the ridiculously popular photo series Humans of New York, has pulled off a holiday-season marvel.
Earlier this month, Stanton profiled 11 Syrian families who had fled the chaos of their home country and were ready to start new lives in the United States. Now, just one day after Stanton launched a crowdfunded Generosity.com campaign to help those families adapt to the States, he's managed to raise hundreds of thousands of dollars.
As of press time on Friday, the campaign has raised more than $554,000 over the course of just one day.
"They have escaped a horrible war, and have finally secured a degree of safety and security, but the road will be very tough for them," Stanton wrote in the page's description. "They will be starting at zero in a new country. In addition to the culture shock, they will face innumerable obstacles, including the need to learn an entirely new language. As they attempt to get their footing, they will be provided with little more than the bare minimum needed to subsist.
"This holiday season, let's give them a little breathing room."
The amount will be split equally between the 11 families, according to Stanton. So far, the sum can provide about $40,000 to each family, Stanton noted on Facebook on Friday morning.
In profiles posted to Humans of New York's Facebook page, the refugees describe tales of missing relatives, bombings and suffering.
One Iraqi woman, Aya, said she feels lost after her father went missing.
"He always told me that he was proud of me, and I was going to be something in life," Aya told Stanton. "But how could he leave me like this? How could he leave all of this on my shoulders? I'm 20 years old. I can't handle all of this by myself. I don't need him to work, or make money, but I need him. I need my daddy. I can't do this alone much longer."
"While they were searching the basement, some shooting began on the streets outside, and the soldiers grew very nervous," a refugee from Jordan told Stanton of his experience with security forces. "I tried to make friendly conversation. I wasn't worried because there was nothing in our house to find. But they grew very cold. They said, 'We can't trust you.' They grabbed me and led me to a van. I told them, 'I'm an old man. I'm not a threat.' But they didn't listen."
It's not the first time Humans of New York has had a big offline impact. Earlier this year, Stanton organized a drive to fund a Harvard University trip for students at Mott Hall Bridges Academy in Brooklyn, in New York City, ultimately raising an astonishing $1,418,334.
It's also another sign Stanton's brand has exploded beyond its original mission to document average peoples' lives across New York. As the page's influence has increased to over 16.46 million followers, so too has Stanton's ambition, with the photographer now documenting individuals around the globe. It's also inspired a number of parodies, such as Millennials of New York and Orcs of New York.
h/t Business Insider