Chrissy Teigen Has the Best Response to Critics Who Question Her Marital Status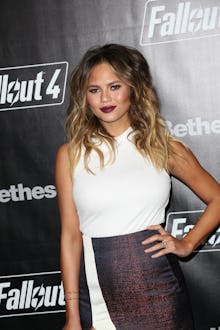 Chrissy Teigen spent Christmas Eve how only Chrissy Teigen would: perfectly skewering haters on Twitter with as few words as possible. 
On Thursday, the model posted two photos to Twitter: a screenshot of a tweet aimed at her (from an account that now appears to be deleted) and a photo of her hand, middle finger raised. 
The comment that prompted Teigen to flip the bird with the most impossibly elegant fingers ever (seriously, check out the nails and the ring)? A dig at Teigen's personal life: "Doesn't anyone get married anymore before starting a family? #marriage #responsibility #love #family #baby..." 
The irony is that Teigen, who is pregnant, and John Legend are married. The pair tied the knot back in fall 2013, with a courthouse ceremony in New York followed by a lavish wedding in Lake Como, Italy.
But hitched or not, Teigen isn't one to judge kids-before-marriage; in fact, the model has sounded off numerous times on the problem with judging women for their personal and family choices. In September, she lamented people's tendencies to ask women why they do or don't have — or even want — kids.
"I am so tired of seeing on my social media, 'Why don't you have kids? Why don't you have kids?'" she said on an episode of FABLife. "You don't know. You don't know what I'm going through."
"I hate it!" she added. "Stop asking me!" 
Now that she is pregnant, the invasive criticism hasn't stopped. In October, she responded to critics on Twitter who questioned everything from how she conceived and how early she announced to her stomach size and more. Less than two weeks later, Teigen addressed another round of commenters on Instagram who questioned her prenatal eating habits.
Teigen knows better than anyone how much people — especially women — are subject to so much judgment about their family and marital choices. But to anyone who sends that judgment her way? Expect an exquisitely raised middle finger.