Chelsea Manning Just Called Caitlyn Jenner "the Grinch" Who Stole the Trans Movement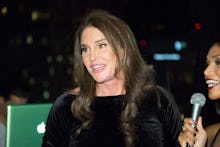 As 2015 comes to a close, it has a lot of people in a reflective mood. That includes former U.S. Army soldier Chelsea Manning, who became a national-security-whistleblower and earned a 35-year prison sentence when she shared classified documents with Wikileaks in 2010. 
Manning, who dictates tweets over the phone from prison, tweeted out a message this week about one high-profile member of the trans community. According to Manning, Caitlyn Jenner was "the grinch who stole (& sold out) the trans movement. All I want 4 Xmas is Universal Trans Lib." 
In a banner year for transgender visibility, Jenner stood out as one of the most visible transgender personalities. She dominated headlines, broadcast news, awards shows and even the talk show circuit — to mixed results. 
As the year went on, Jenner's media presence turned sour after numerous gaffes. She seemed uncomfortable discussing gay marriage with Ellen DeGeneres. Jenner described herself as a "traditionalist" when it came to marriage. 
DeGeneres later told Howard Stern: "I said, 'You're wanting people to understand and accept you — this is, like, really confusing to people. And you still have a judgment about gay people and marriage,'" DeGeneres told Stern. "She goes, 'Well, if the word 'marriage' is that important.' It is. That's the word. We want the same thing."
In a later interview with Time, Jenner insinuated that transgender people who fail to pass as their gender make people uncomfortable. 
"[I]f you look like a man in a dress, it makes people uncomfortable," she told Time, later apologizing.
All this has not made Jenner the trans community's favorite celebrity.
While many in the community are unhappy with Jenner, not many of the transgender community's most well-known faces have spoken out against her. That makes Manning, who began her transition in February, one of the few high-profile transgender people to turn against Jenner. Manning is currently being held at the all-male Ft. Leavenworth military prison in Kansas.