11 Powerful Quotes Latina Women Said in 2015 That You Should Remember in 2016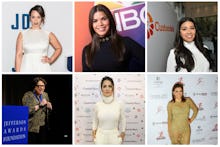 Latinas had a lot to say in 2015.
Whether it was from the Golden Globes stage or on Twitter, Latina women used any platform they could to tell us who they are, what they are not and what their hopes and wishes are for their fellow Latinos. They are award-winning actresses, journalists and a Supreme Court justice — and they all made people think a little bit harder in 2015. 
Eva Longoria on Latina empowerment 
While talking to the now-defunct Glam Belleza Latina in March, Eva Longoria spoke about more than her hair care and beauty regimen — she discussed why she chose to empower other Latina women with her philanthropic work.
Zoe Saldana on redefining masculinity 
Zoe Saldana married her husband Marco Perego earlier this year after only a few months of dating.
But that wasn't the most interesting part of the pairing. Perego took her last name after the wedding. Saldana showed solidarity with her new beau in a Facebook post that said she hopes her husband can be an example of how to rethink masculinity.
America Ferrera on diversity in Hollywood 
America Ferrera has taken several opportunities to address diversity in Hollywood this year.
She made a comedy video that swiped at Billy Eichner's "LaTina Fey" segment on his TV show Billy on the Street. After Gina Rodriguez became only the second Latina to win a best actress in a comedy TV series Golden Globe — Ferrera is the first — Ferrera spoke to the Huffington Post about why it's frustrating to have only two Latinas in the winner's circle. She said she doesn't blame awards shows, she blames people who create content.
Gina Rodriguez on seeing Latinos as heroes 
When she won the Golden Globe for best actress in a comedy TV series in January, Rodriguez gave a stirring speech that was both personal and political. The actress thanked her father for teaching her to be ambitious, but she also thanked the creators of her hit show Jane the Virgin for telling Latina stories on screen. 
Salma Hayek on discrimination 
In an interview with the Huffington Post, Hayek dropped some historical truth bombs when a fellow movie theater patron tried to tell her and a friend to go back to their country. 
Sonia Sotomayor on the criminal justice system and her own family 
While hearing a case about racial discrimination and jury selection, Supreme Court Justice Sonia Sotomayor opened up about the criminal justice system and her own family. The case was about an all-white jury that sentenced a young black man to the death penalty. Twenty years later, the defendant's lawyers found evidence of racial discrimination in the case, and that black jurors had been dismissed for a variety of criteria not applied to white jurors. During the case, a question came up as to whether prosecutors were aware that one black juror's cousin was arrested on a drug trial. This spurred Sotomayor to comment on her own family history. Reporter Lyle Denniston told the Huffington Post that he doesn't think he's "ever heard any such admission from the bench." 
Zoe Saldana on anti-immigration fervor 
While discussing her upcoming Nina Simone biopic with Latina, Saldana responded to questions about fear of Latinos in the U.S. Saldana first pointed out that Latinos are in the same predicament as earlier waves of immigrants, including Italians, Jews and Irish people. She then went on to say that Latinos are here to stay. 
Maria Hinojosa on feeling invisible 
There were almost no Latino films in 2015, and Latino invisibility in all forms of media remains a problem.
In a TED Talk given earlier this year, award-winning journalist Maria Hinojosa spoke about the lack of Latino narratives in all media, especially journalism, and how they affected her as a child. 
Selenis Leyva on being a "real woman" 
Orange Is the New Black star Selenis Leyva has had it with the term "real women." In a Huffington Post blog, the actress called the term a "backhanded compliment," and that it implies that, somehow, the women of Orange Is the New Black should not be on TV. 
Dascha Polanco on her love for her body 
Another Orange Is the New Black star spoke out this year, and for another deeply personal reason. In an interview with Bustle, Dascha Polanco spoke about her lifetime struggle with her weight, and how she's finally learned to love her body — and food. 
America Ferrera on Donald Trump 
2016 Republican presidential candidate and real estate mogul Donald Trump is probably one of the least popular people in the Latino community right now, given his repeated assertions that Mexican undocumented immigrants are rapists and criminals. In an open letter, actress America Ferrera responded to Donald. 
Read all of Mic's year-in-review coverage here.