Chicago Police Fatally Shoot Quintonio LeGrier, Bettie Jones, Responding to Domestic Call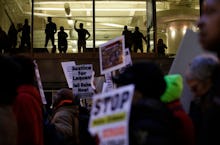 Joshua Lott/Getty Images
Responding to a domestic disturbance call around 4:20 a.m. Saturday, Chicago police officers shot and killed both Quintonio LeGrier, a 19-year-old college student, and Bettie Jones, a 55-year-old woman who lived on the ground floor of the LeGriers' West Garfield Park home, the New York Daily News reported. LeGrier's father, Antonio Le Grier, called the police after his son — who was "dealing with mental issues," according to the Daily News — menaced him with a bat. The officers who arrived on the scene, meaning only to shoot LeGrier, allegedly also shot Jones by accident.
"In my opinion, he knew he had messed up," Antonio LeGrier said, according to the Chicago Sun Times. "It was senseless. He knew he had shot blindly, recklessly into the doorway and now two people are dead because of it."
Antonio LeGrier had reportedly told Jones not to open the door until police arrived; he heard gunshots while on his way to the front door, along with the responding officer yelling "no, no, no," the Daily News reported. 
"Upon arrival, officers were confronted by a combative subject resulting in the discharging of the officer's weapon which fatally wounded two individuals," the police department said, according to CNN. "The 55-year-old female victim was accidentally struck and tragically killed. The department extends its deepest condolences to the victim's family and friends."
Quintonio LeGrier had been a student at Northern Illinois University and was home for Christmas when the incident occurred, the Daily News reported. Around 4:15 a.m. Saturday, he began beating on his father's bedroom door with a bat, yelling, "You're not going to scare me." Quintonio LeGrier was apparently shot seven times when he answered the door, along with Jones, according to the Associated Press. LeGrier apparently dialed 911 before his father did.
"Anytime an officer uses force the public deserves answers," Mayor Rahm Emanuel said in a statement. According to the AP, "law enforcement involved will be placed on 30-day administrative duty as part of a new policy." 
The shooting comes amid accusations of racism against the department, and shortly after Officer Jason Van Dyke was charged with first-degree murder for the shooting of Laquan McDonald in October 2014. Demonstrators called for the resignation of both Emanuel and Anita Alvarez, state attorney for Cook County, as recently as Thursday, CNN reports.