First Trailer for 'Sesame Street' on HBO Released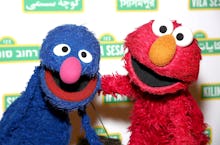 Paul Zimmerman/Getty Images
Brought to you by the letters H, B and O: The first trailer for Sesame Street on HBO was released Thursday on the network's YouTube channel, and the whole gang is back. The 46th season of the beloved children's show will premiere Jan. 16 with back-to-back 30-minute episodes, according to the Verge. Sesame Workshop, the nonprofit that produces Sesame Street, inked a five-year deal with HBO in August. Sesame Street debuted in 1969 and has aired on PBS for the past 45 years. 
Celebrities like Pharrell Williams, Jon Hamm, Tina Fey and Tracee Ellis Ross make an appearance in the trailer.
The new episodes will air exclusively on HBO for nine months, then will be aired on PBS, the Verge reported. Sesame Street's move to HBO has to do with one thing: money. 
"Our new partnership with HBO represents a true winning public-private partnership model," Sesame Workshop's CEO Jeffrey D. Dunn said in August in a press release. "It provides Sesame Workshop with the critical funding it needs to be able to continue production of Sesame Street and secure its nonprofit mission of helping kids grow smarter, stronger and kinder."
Viewers can also expect a Sesame Street spin-off series, Sesame Street Muppet, although details on the series have not been released.