New Year's Eve 2016: Cities That Will Have Fireworks and Light Shows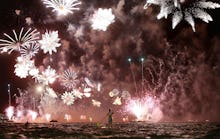 Mario Tama/Getty Images
In addition to bringing some of the most beautiful displays of lights and fireworks each year, New Year's celebrations provide exquisite glimpses into the unique cultures and societies from around the world. The beginning of 2016 will see fireworks light up the sky in major cities including New York, Rio de Janeiro, London, Hong Kong, Berlin, Las Vegas and Paris, just to name a few. 
According to Fodors, one of the most recognized English-language travel and tourism sites, the above cities are all beautiful locations to spend New Year's Eve and ring in 2016. While New York City may only offer cramped bars and clubs, as well as the notoriously packed Times Square, the Big Apple also displays some of the most brilliant fireworks in the world, as well as it's 12,000-pound, 12-foot-wide crystal ball which drops at the moment of the New Year.
Meanwhile, Rio de Janeiro celebrates the festivities by packing upwards of 2 million people onto Copacabana Beach for a wild night of live music and fireworks, a midnight light show illuminates the riverside of Bangkok and multiple traditional fireworks shows will take place on the Hawaiian island of Oahu.
Below are photos of previous fireworks displays from New Year's Eve celebrations around the world:
New York City
Paris
Hong Kong
Rio de Janeiro
Netherlands
Mexico City
Serbia