In Major Defeat For ISIS, Iraqi Forces Seize Control of Ramadi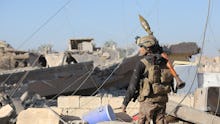 Iraqi security forces have successfully routed the Islamic State group from the city of Ramadi, one of the group's largest strongholds.
ISIS has ruled the city, the capital of Anbar province, since May 2015, when a wave of more than 30 suicide attacks drove government forces out of the city to more defensible positions. The New York Times dubbed it ISIS' biggest victory of 2015, with at least 500 deaths among civilians and security personnel.
Now, after months of fighting and a final push against ISIS defenses including improvised explosive devices, snipers, and suicide bombings, government forces have successfully seized control of Ramadi's government compound and are now looking to finish off any stragglers. They were assisted in the effort by coalition airstrikes.
Security forces seized huge caches of weaponry and explosives as they advanced.
"By controlling the complex this means that they have been defeated in Ramadi," government spokesman Sabah al-Numani told Reuters. "The next step is to clear pockets that could exist here or there in the city. 
"The complex is under our complete control, there is no presence whatsoever of Daesh fighters in the complex," Numani said to Reuters.
According to the Guardian, many of the about 400 ISIS fighters that remained in the city as of Friday had been killed, while Anbar province accounts for roughly one-third of the 3.2 million Iraqis that have fled their homes since the beginning of 2014.
ISIS remains in control of Iraq's second-largest city of Mosul, a metropolis which formerly had two million residents but has seen much of the population flee. According to CBC, retaking Mosul is the next objective of the security forces, and victory there would "effectively abolish their state structure in Iraq and deprive them of a major source of funding, which comes partly from oil and partly from fees and taxes on residents."