'Star Wars: The Force Awakens' Becomes Fastest Movie to Earn $1 Billion at the Box Office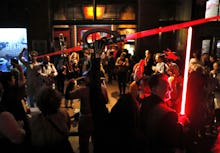 Jonathan Bachman/AP
The force is with Star Wars: The Force Awakens, which became the fastest movie to sell $1 billion in tickets on Sunday, the Associated Press reported, after a mere 12 days in theaters. According to Disney, The Force Awakens broke another Jurassic World record, beating it to $1 billion at the box office by just one day. Another point of pride for Star Wars fans: The latest installment brought in $49.3 million on Christmas Day alone, according to the Wrap, shattering the record held by Sherlock Holmes, which sold $24.6 million Dec. 25, 2009.
"The Force Awakens has been setting records since its debut Dec. 17," according to the AP. "It brought in a galactic $238 million in North America over its opening weekend, besting previous record-setter Jurassic World, and set international opening-weekend records in Australia, New Zealand and throughout Europe. It scored the biggest worldwide debut with $529 million."
Read more: 
The much-hyped latest installment of the Star Wars franchise fostered intimidating lines, a Facebook full of lightsaber pics, hair trends including luminescent locks, fan-made drones, video game spin-offs, thriving toy markets for collectibles old and new, its own line of condoms (aptly named "Saber Skins"), a thorough Twitter fact-check by astrophysicist Neil deGrasse Tyson and, of course, premature excitement around 2017's Episode VIII. The Force Awakens' ticket sales indicate a happy new year is on the horizon for the cast and crew — particularly Harrison Ford, whose share of the gross profits must be upward of $5 million by now.