Christmas Blaze at Islamic Society of Greater Houston Is Likely Arson, Say Investigators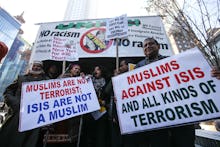 A Christmas blaze which burned down sections of the Islamic Society of Greater Houston in Texas appears to be an act of arson, according to investigators on the case.
The Houston Chronicle reports Houston Fire Department investigators have determined the two-alarm fire had multiple points of origin and likely was "incendiary," a conclusion shared by the Houston Field Division of the Bureau of Alcohol, Tobacco and Firearms. 
"As part of the investigative process, evidence is being collected and analyzed; and interviews are being conducted," the Houston Fire Department said in a statement issued to the Chronicle. "We want to reassure the public that we will conduct a complete and thorough investigation."
Photos taken at the scene showed damage to the exterior of the mosque, while society president MJ Khan told the Chronicle everything inside was damaged but copies of the Quran.
"It's a place of worship. It's Christmas Day," Khan told KHOU 11 News. "There were Friday prayers and everyone was here doing their prayers and then this happened."
Between an Islamic State group attack in Paris on Nov. 13 and Dec. 8, the L.A. Times tracked 15 separate incidents in which U.S. Muslims were attacked, harassed or threatened with violence, including a Dec. 7 incident at Philadelphia's Al Aqsa Islamic Society in which a severed pig's head was left on the door and a Nov. 26 incident in which a man shot a Pittsburgh taxi driver who said the gunman asked him about ISIS.
A separate analysis by Center for the Study of Hate and Extremism found a higher tally of 38 such attacks between Nov. 13 and Dec. 17.
As of Dec. 11, mosques throughout the country had been targeted for harassment, vandalism, damage, arson or attempts to zone them out of existence 63 times throughout 2015, triple the number for 2014, according to the Council on American-Islamic Relations.
In France, where the far-right National Front briefly surged in post-Paris elections before ultimately failing at the polls, anti-Muslim crimes are also on the rise. A crowd ransacked a Muslim prayer hall on the French island of Corsica this weekend, reports al-Arabiya.
"Definitely, many experts are saying that it's really the beginning of the end of normal life for Muslim citizens in France," analyst Cecile le Roux told RT. "And unfortunately, this seems to be [the case] after the Paris attacks and the anti-Muslim feelings that are everywhere."
In London, anti-Semitic and anti-Muslim hate crimes grew by 61% in 2015 compared to 2014, according to the Jerusalem Post, with attacks on Muslims increasing significantly in the weeks following the deaths in Paris.
Just weeks ago, Muslims met at the mosque in Houston to pray and mourn after a San Bernardino, California couple with ideological ties to ISIS massacred 14 others at Inland Regional Center before dying in a gunfight with police.
During that service, members of the Islamic Society of Greater Houston denounced terrorism in the name of Islam and expressed hopes others would understand they were not violent people.
"The Quran says if someone takes a life, it's as if he's killed all of mankind," Imam Wazir Ali told the gathered worshipers, according to the Chronicle. "I'm a human being that happens to be an Islamic leader. This is a direct affront to my humanity."
"I was trying to find some sense of solace, so I could continue doing the wonderful things I do and show people the beauty of our faith," worshiper Sacha Simmons, an oncology massage therapist, told the paper. "I'm unapologetically Muslim. Proud to be American and proud to be Muslim."
The ATF's Houston Field Division declined to comment on the status of the investigation to Mic.