Sacha Baron Cohen and Isla Fisher Donate $1 Million to Syrian Refugee Children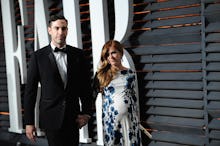 Sacha Baron Cohen and Isla Fisher are giving $1 million to children and refugees affected by the ongoing civil war in Syria, which has caused 4.39 million people to flee the country.
Cohen, best known for his work in mockumentaries like Borat: Cultural Learnings of America for Make Benefit Glorious Nation of Kazakhstan and, Fisher, who played Myrtle Wilson in 2013's The Great Gatsby, are married.
U.K. charity Save the Children announced in a blog post the donation will be split with another charity, the International Rescue Committee.
$500,000 will go to vaccination programs intended to end the spread of measles in northern Syria, according to Save the Children. The other half will "be used to help fund the work to support families, with a special concern for women and children, both inside Syria and in neighboring countries who are suffering as a result of the ongoing conflict," reads the statement. "The money will go towards education, health care, shelter and sanitation."
Save the Children wrote it hopes the donations will help the lives of thousands of children.
The money comes at a time when resources are desperately needed to ease the lives of thousands of people displaced from their homes in Syria by the conflict, which has raged since 2011 and where estimates of the dead range from 122,000 to over 300,000.
In September, Mother Jones reported the World Food Program estimated the cost of feeding all refugees over the next three months would be a staggering $278 million.
The United Nations and the International Organization for Migration recently reported the number of refugees who had fled to Europe in 2015 has surpassed 1 million.