Iggy Azalea Reveals "Team" Will Be Lead Single Off New Album 'Digital Distortion'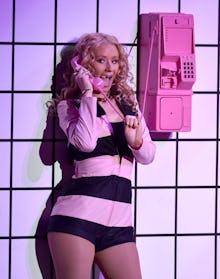 John Shearer/AP
On Saturday, Australian pop star Iggy Azalea announced the title of the lead single off her forthcoming album, Digital Distortion: It will be called "Team," according to Billboard, per her tweet to a curious fan.  
"20% meaningful 70% bop 10% ratchet," will be the breakdown of the pop star's newest song, she wrote in her tweet. 
The single won't be available in January, Azalea wrote in another tweet, but fans will get "other content, buzz songs, viral videos and other cool stuff" to tide them over next month. As Billboard reported, whatever Azalea comes out with next month will be strictly streamable — on SoundCloud and YouTube — and won't be available for radio play or iTunes purchase. 
In September, Azalea announced her second album, again on Twitter and again in response to a fan. In October, she tweeted its name: Digital Distortion. It follows her 2014 debut, The New Classic, for which she received a Grammy nomination.
No exact release date has been announced, but Azalea has tweeted that the lead single won't arrive until 2016, that the album will probably be around 10 songs and that there won't be a deluxe version, but there will be a documentary about the album's making.  
Any questions, just tweet them at Azalea — for better or (often) worse, she's an active Twitter user, and she tends to reply pretty promptly.