Adele's '25' Has Sold More Than 7 Million Albums in the US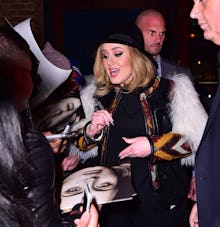 James Devaney/Getty Images
Adele's latest album 25 continues to destroy all album sales records, exceeding 7 million U.S. purchases in its fifth week of being available to the public. The commercial success has now seen three weeks of over 1 million sales across the nation, according to Billboard.
The boost in album sales can largely be attributed to the holiday season, with millions of shoppers purchasing the 11-track album as a gift, according to Billboard. Not only is 25 continuing to hold its throne as the No. 1 selling album throughout the United States, but according to Official Charts, the album was the most-sold album during Christmas week in the U.K. as well.
The news follows Adele's North American leg of her recently announced world tour selling out within minutes, causing many American fans to take to social media in frustration, as Mic previously reported. "Hello from the ticket line," read one tweet Dec. 17 from Maggie Hunter, who tried purchasing tickets in Texas. "I've clicked refresh a thousand times."
"This feels like such a long time coming, my new album is finally out," Adele tweeted Nov. 20 after releasing 25. "I am so overwhelmed and grateful to be able to even put another record out, and put it out how I want. The last month has been a whirlwind, it's literally taken my breath away. I hope you enjoy the record as much as I enjoyed making it for you."