Beatles on Spotify: Top 10 Most Streamed Songs in US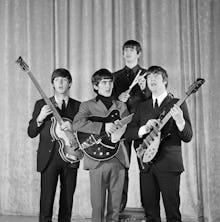 CBS Photo Archive/Getty Images
The Beatles left a Christmas present on music streamers' online libraries Dec. 25 when the band's entire collection of music became available across leading streaming platforms after previously not being on any online streams. Millions have already revisited the melodies of the massively successful boy band from the U.K. that became one of the most iconic groups in music history.
"It's a pretty historic moment," Tidal spokesperson Grace Kim told Mic about the group's music being added to online services just in time for the holidays. "For this team and these artists to want to come onto streaming and make this music accessible to fans ... it's a very exciting time for us, it feels right ... There's probably no better gift in the music world."
According to Billboard, in just two days of the Beatles' music being available via Spotify, over 673,000 playlists on the streaming service added songs from the band to their streams. In the United States and abroad, "Come Together" is the most streamed song to date.
Below are the top 10 most streamed songs by the Beatles on Spotify in the United States., according to Billboard:
1. "Come Together"
Internationally, the list appears somewhat different, but still includes several of the U.S. top hits, from "Hey Jude," to "Here Comes the Sun." Below are the most streamed songs from the Beatles around the world on Spotify, according to Billboard:
1. "Come Together"