Does It Get Better for Gay Guys Who Happen to Be Overweight?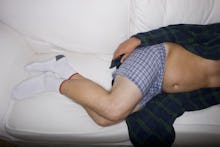 I sent my very first shirtless selfie to a friend of mine during the holiday season. We had been texting for a week or so and as the texts evolved, we showed less clothing and more skin, but I was reticent to lose my shirt. I am a man of a certain size. I'm pretty sure if you split my weight in two, you might get two skinny-but-not-too-skinny people.
As I thought about putting my bare hairy stomach out into the world, I couldn't help but wonder ... am I the only one who had trouble shedding my shirt and my shame? 
To find out more, I spoke to other gay men of size about dating, sexting and the bear community. 
Gabe J.*, 33
Gabe J. recently sent his first shirtless sext, too. And, like me, his journey to the shirtless selfie was a lifelong one. Gabe told me that being big, gay and Asian has meant dealing with all of his identities and their different cultural perceptions of being overweight. Gabe, a Wisconsin resident and Midwesterner since birth, said growing up and entering the gay community meant learning quickly that there are schema for acceptable, normal bodies: the cis hairless twink, the sorta-hairy hunk or the gym bunny. And, growing into his gay identity has meant refusing to hold standards put upon him by his own community. 
"I had to disidentify myself with white culture, gay culture and cultures of acceptable bodies," Gabe told Mic. "And, you know, that's a fucking ton of work." 
As a queer brown boy, Gabe didn't see anybody on TV, on newsstands or elsewhere who acted as a model for him. The first time he saw someone living a life that he hoped to live one day was in a church youth group he attended. The mentor, Gabe remembered, was a gorgeous, gay man of size. 
"I was blown the fuck away," Gabe said. "I was like, 'Wait, are you gay? And you're this gorgeous big hairy dude? What?" 
Even more surprising to Gabe than finding a role model was the first time someone called him sexy. Gabe told me that his therapist once said that eventually someone would say it, but Gabe didn't believe him. He thought he was paid to say that kind of thing. 
The first time someone told Gabe he was the sexiest man in the room, he was in a gay bar in Michigan. He was stunned.
"I hated that I was so shocked by that," he said. "It's such a nice feeling, but it's unfortunate that that had to be such a surprise to me." 
Robert Lopez, 37 
Robert Lopez had similar disbeliefs about the trajectory of his life. Lopez began to gain weight rapidly when he was about 8 years old. It wasn't until decades later that a doctor told him he probably gained weight because of undiagnosed sleep apnea.
By the time he came out at 14, his family accepted him, and he was happy, except for the nagging issue of his weight. 
"I was like, 'Oh my God, I'm fat, I'm never going to have a boyfriend, I'm never going to have sex,'" Lopez told Mic. "I was so concerned because I had never seen someone overweight and gay." 
On Lopez's 25th birthday, he was out at a club and a potential suitor approached him. The man put his hand on Lopez's stomach and said, "If you lost this, you'd be sexy." 
"I said, 'You know what, motherfucker, I am sexy' and I threw a drink in his face," Lopez said. "I can't let people decide how I feel about myself. It was this epiphany moment, and it was like, 'You know what, I am sexy.'" 
In fact, Lopez said, it wasn't until he was 30 that he attended an event in the bear community — a community of gay men who are usually larger, taller and hairier than one might find in the mainstream gay community. Lopez said his whole world changed then, but that it's still not without its pressures. 
"Are you a big boy? Are you a big boy with muscle? Are you a total chub?" Lopez explained. "There's this hierarchy, and it depends on who you are and who you're interested in dating."
The bear community, Lopez explained, like all subcommunities, is not immune to negativity. While it has been a refuge for almost every person I interviewed, it's also come with its own weird set of expectations about who you can date, whatever size you have to be.
Many respondents told Mic that the bear community was a surprising, welcoming refuge from spaces that might have been less friendly to their weight. But, many also said that there are very few sexual or romantic depictions of big men.     
Who are the visibly gay, overweight men out there? You can almost count them on one hand — there's Cam on Modern Family (played by straight actor Eric Stonestreet), perennial left-of-center-square comedic writer Bruce Vilanch and intern-no-more Ross Mathews. Though each talented in their own right, none were ever explicitly sexual or sexualized. Perhaps only the sexual portrayal of a man of size is Daniel Franzese's HIV-positive bear character on HBO's Looking, who is allowed to be tender, romantic, attractive and wanted. 
Luis Diaz, 27
Luis Diaz said that the scarcity of media portrayals of gay men of size can send messages to younger men that there's only one right way to be gay. Diaz said that this lack of visibility of husky gay men has had an immediate mental impact on him, a person whose weight has fluctuated throughout the years.
According to Diaz, these messages about what a gay guy looks like manifest in how gay men treat each other in person and on dating apps. Of course, we know Grindr is a hotbed of racism and even anti-Islamic sentiment — but, hey, it's sizeist, too, according to Diaz. 
A few years back, Diaz went on a date with a man he met on Grindr in Florida. While the date went well enough in person, when he went back home, the man messaged him with a simple offer: "Hey! If you need a fitness instructor, let me know." 
"I didn't ask for his opinion," Diaz said. "It was very unwarranted." 
Diaz is currently in a relationship where he says his partner loves him at his current size. But during his single years, the bars were often unwelcoming to people of his size, he said. Diaz also said he's found refuge in the bear scene. But when he does enter mainstream spaces, he often has to arm himself with his own personal mantra.
"When I go back to bars on the west side in midtown [Manhattan], where I've felt uncomfortable, in my head, I have to say to myself, 'You're loved, you have an awesome partner, you have great friends, you're good,'" he said. "I walk into these clubs with that mentality, like 'I'm here to have fun.'"
Samuel Colón, 37 
Samuel Colón told me that he was able to be confident about his own body when he first went out into a mainstream gay space. His secret? He learned about his body as a straight man: He dated women until he was 21. According to Colón, living as straight let him operate without any problems with his weight. 
"When you date girls, it's not such a hang-up to be overweight," Colón told Mic. "I always find that weird, how gay men have such high standards, but in the heterosexual world, there isn't that pressure put on men." 
In fact, Colón was surprised the first time he stepped foot into a mainstream white gay bar. There was a pervading culture of slim body worship that turned him off. He said it wasn't until he dated a man of size that he learned about bear culture and body positivity within the gay community. 
"I'm the first guy to make a fat joke," Colón said. "Once you do that, you take the power away from somebody else. Now, it's not the elephant in the room anymore." 
Colón said that his confidence with being his own weight has put him in a position to be a lot of people's "first fat experience." And, it also attracts a lot of what men of size would call "chubby chasers." As long as they're respectful, Colón is a fan. 
Colón described the first time he was with a person who appreciated his size. "I didn't have to keep my wife beater on," he said. "They insisted on seeing every crevice of my body. So I really felt like I was being made love to for who I was entirely and for more than just my sexual organs. To really make love to someone is to enjoy every single inch of them." 
Raul Quintero, 35
Raul Quintero spoke to me about what happens when the search for that feeling of being appreciated for your size can go to extremes. Quintero spent a few months in gainer and feeder culture, where men worship men with big bellies, and some go to extremes to gain weight. Quintero has seen videos of men eating lard and funneling gallons of milk into their partners' guts — because of a sexual attraction to bellies. Quintero, who is now on a fitness journey but used to weight about 270 pounds, told Mic that he went on these gainer-feeder sites in search of potential dates, but decided it wasn't for him.
He met men who brought him to restaurants just to share in the experience of watching him eat. With one man, Quintero made a list of restaurants where he wanted to eat in Los Angeles and his date would bring him there and watch him eat. "These guys, they loved my body, they loved my big fat belly," Quintero told Mic. "People weren't even into sex." 
Even within that world, Quintero said, there was pressure to look a certain way and he had been turned down for not being large enough. 
Matthew Johnson, 32
Matthew Johnson told me that the fear of being overweight started at home. Comments from his family members, even his own mother, who is a fitness instructor, fueled this fear.
"The way she'd speak about people [who were overweight] was the way people might talk about someone who was a criminal or someone who was deathly ill," Johnson told Mic. This led to a fear of being fat in childhood. Even that his name rhymed with "fat" was a lot for Johnson to handle as a child. 
Though Johnson said he would later find sexual partners who appreciated him for his size, it was still a fraught experience. His own problems with his weight didn't allow him to enjoy the experiences. Though Johnson describes himself as "bear adjacent," he credits experiences in the New York City bear community with a better body self-image. 
"That was something that definitely made me feel a lot better about myself," he said. "I understood how I could socially be my size. I wasn't just an erotic object."
Johnson said that, for a while, he refused to go into bars that weren't size-friendly. He'd only go to gay bars where he knew he wouldn't be the biggest person in the room, so that his tendency to compare his size with others wouldn't hinder him from having a good time. 
"Everyone would turn and look at me like, 'Oh, somebody got lost' or 'Are we getting raided?'" he said. "And I know that nobody was thinking this. They're not thinking about me. They're thinking about themselves, so I guess, you know, it took me a while, and now I can go to any gay bar and not really care." 
Yes, each story is unique. But each story is also wildly universal in regards to self- and society-produced fat anxiety. Physical weight is not always the problem — sometimes, it's the mental weight that accompanies it. 
That's the anxiety that I felt the day I got the request for a shirtless selfie. In the end, the man who received the text loved it — a lot. So whatever bundle of insecurities that flared up in my stomach was quelled for the moment. 
But there will come another time when I have to be naked in front of someone, or walk into a bar of unfriendly hotties or assert my sexuality as a man with a few extra pounds. And to get there, I only have one thing to shed — shame. 
Editor's note: Some people have chosen to withhold their full names to speak freely.