Rolls-Royce Thinks It Can Get You Across the Atlantic in Supersonic Time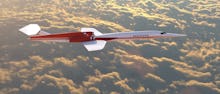 Christmas money burning a hole in your pocket? Fear not — a new generation of supersonic passenger planes may be in development. 
Aerion Corp. is currently in talks with Rolls-Royce to produce engines capable of taking the company's planes past the sound barrier, the Telegraph reported Saturday. The Reno, Nevada-based airplane designer announced in November it would produce 20 planes for Flexjet at a cost of $2.4 billion. The planes, which would be supersonic, are expected to have their first flights in 2021.
"We are pleased to be the first fleet purchaser of the Aerion AS2 and to be able to offer supersonic, intercontinental flight capabilities to our owners," Flexjet chairman Kenn Ricci said in a press statement.  
While the Rolls-Royce brand is best known in the popular imagination as a maker of cars few can afford, it is also, through Rolls-Royce Holdings, one of Europe's engineering giants, whose parts are regularly used inside some of the world's most complex machinery.
Developing the ultra-fast engines would not be Rolls-Royce's first foray into supersonic tech. It previously produced engines for the Concorde, the first supersonic passenger aircraft in the Western world, which ended flights in 2003 party due to a crash that killed 113 three years earlier.   
The company's engineering heritage has reportedly made it a frontrunner to receive the Aerion contract.
One of the greatest challenge reportedly facing the new generation of supersonic planes is the issue of the sonic boom, or the sound and shockwaves produced when an object breaks the sound barrier. Current regulations prohibit flights in many areas from breaking the barrier while above land. 
Some possible solutions to this issue have included the idea of only allowing supersonic flights while over water or developing technology that can reduce the the effects of the boom. 
"The challenge will be to produce an aircraft that meets the regulations on airport noise and sonic boom, while delivering supersonic performance," Alan Newby, Rolls Royce's chief engineer of future programs and technology, told the Telegraph.  
According to Aerion's website, AS2 would meet regulations by flying just shy of supersonic speeds while over land, but the company claims it is able to produce a flight with no boom as the shock, says Aerion, would dissipate before reaching land. 
Correction: Dec 28, 2015
An earlier version of this story stated that Aerion was in talks with British car manufacturer Rolls-Royce. Aerion is in talks with Rolls-Royce Holdings, which spun off from Rolls-Royce Motors in 1973.