Is Travis Scott the Reason We Haven't Seen Rihanna's New Album 'Anti'?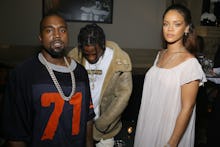 Victor Boyko/Getty Images
2015: the year album releases became such a secret, they literally stopped happening. First was Frank Ocean's promised album, reportedly set for a release date of July — it's at least July 180th by now. Then, we were told Kanye West's Swish would be out imminently, and now Rihanna's Anti continues to lurk in the shadows, waiting to be heard by the masses. Could the reason why fans haven't heard the Barbadian hip-hop performer's forthcoming record be a fellow artist?
Multiple outlets began reporting early this week on a stream of tweets sent from R&B producer Glass John, who has worked with Rihanna, Pusha T, Chris Brown and several other major artists. On Saturday, John called out rapper Travis Scott on Twitter for allegedly delaying Rihanna's Anti's release. 
In a series of tweets, John posted an alleged, minute-long snippet of "Kiss It Better," a song supposedly off Anti, which the producer claims to have written and co-produced. According to him, the reason Rihanna only released a short Instagram clip of the song last year and has yet to release any updates since is all thanks to Scott convincing her label it's not the right time.  
Take it with a grain of salt: Tweets including the alleged snippet from "Kiss It Better" have been taken down "in response to a report from the copyright holder," according to Twitter. The move may prove Roc Nation, Rihanna's current label, is protecting the audio file from being heard. That could signal that the snippet may be off a forthcoming project. 
John's Twitter rant started to get a little too weird when his Twitter account announced a change early Monday morning — apparently, the profile is now claiming to be managed by John's management, because "the government is getting involved because they said the attention I'm drawing is putting me in danger."
The last time anyone heard a somewhat credible (and more sane) update on the whereabouts of Anti was when singer-songwriter Sia visited BBC Radio 2 host Jo Whiley and shared details from a business meeting she had with Rihanna. "The other night she came over and listened to half of 25 songs I played her because she's still looking for songs for her new album," Sia told Wiley earlier this month. "She was there to listen to songs and see if there was anything that she was into. It was a business meeting, for sure. She took four [songs], but I don't know if they'll end up [on the album]."