Will Nicki Minaj Get Married to Meek Mill in 2016? All Signs Point to Potential Wedding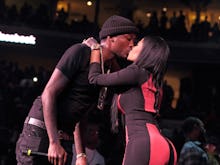 Owen Sweeney/AP
Nicki Minaj and Meek Mill were hip hop's couple of 2015, and may be well on their way to tying the knot this upcoming year, according to a highly insinuating tweet by Minaj. On Sunday, Minaj tweeted and asked fans to "RT for beach wedding. Fave for church wedding." Rumored wedding bells have rang previously for the couple, who allegedly broke up earlier this summer, according to Hollywood Life, but have since seemingly worked things out. 
Minaj and Mill had been friends for a "very, very long time," according to an interview Minaj had with Vogue in February. After appearing on each other's social media and collaborating for Minaj's 2014 The Pinkprint album, the two went public in January, Jezebel reported. Before Mill, Minaj was in a 14-year relationship with Safaree Samuels, OK! magazine reported in October 2014. 
By April, engagement rumors began to swirl when Minaj posted a photo to Instagram of a gigantic heart-shaped diamond ring on her finger, Time reported. Minaj addressed the ring in her December Billboard interview, saying that the two weren't engaged — Mill wants to give her three rings before that happens, she said. In May, Mill told the Fader that what him and Minaj have is "real," but that they weren't ready for marriage.
Real enough for the next ring, however. Earlier this month, Minaj rocked another — equally gigantic — diamond ring on that rumor-inducing finger, E! Online reported.
It hasn't been all rainbows and butterflies for the powerhouse couple. Back in June, Mill tweeted, or rather called out, Drake, who's worked with Minaj, for not giving Mill's album a shout-out, the Daily Beast reported. In the tweet, Mill accused Drake of using a ghostwriter. 
As expected, Twitter went wild, and stars from the music industry stepped in. Right after, Minaj reportedly dumped Mill, who was opening for her The Pinkprint Tour, the Daily Beast reported in July. Mill apologized to Minaj onstage, Billboard reported in July. The two posted break up-like posts on social media, but confused fans by also continuing onstage PDA. Mill went onstage on July 31, calling Minaj his girlfriend, according to PopCrush. 
The couple officially settled rumors last month by making a public appearance at the American Music Awards, where she called out her "baby, Meek," Us Magazine reported.
Mill is also in the middle of a legal hearing for violating his probation from 2008 drug and gun charges, according to Rolling Stone. Earlier this month, Minaj testified for Mill, saying she would keep him organized and ensure he did community service, Billboard reported. 
For the record, as of Monday morning, more than 14,000 fans were in favor of a beach wedding.