2016 Presidential Poll Results: Here's Where Candidates Stand as the Year Draws to a Close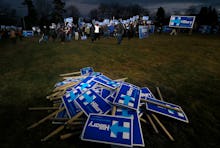 Michael Dwyer/AP
The race for the White House is a long one. Yet as the pool of Presidential hopefuls continues to thin, the remaining Democratic and Republican candidates are bracing for the beginning of an election year. 
According to their standing in the polls as the year draws to a close, two candidates have emerged as their party's leaders. Perhaps not surprisingly, they are former Secretary of State Hillary Clinton for the Democrats and business tycoon Donald Trump for the Republicans. 
At the national level, Clinton was polling ahead of Trump toward the end of December. That's according to a number of polls this month from ABC News/the Washington Post, Public Policy Polling, Fox News and others. However, it's still a tight race, according to the numbers.
Most recently, a joint survey from CNN and ORC International released on Wednesday found 49% of American primary voters would choose Clinton while 47% would pick Trump. On Tuesday, Quinnipiac University released numbers that confirm the presidential race is a close one; according to the university's data, American voters support Clinton 47% to Trump's 40%. 
"Half of American voters say they'd be embarrassed to have Donald Trump as their commander in chief and most Americans think he doesn't have a good chance in November, but there he is, still at the top of the Republican heap," said the assistant director of  Quinnipiac University's poll, Tim Malloy, in a statement. "Hillary Clinton tops him. [Vermont] Sen. Bernie Sanders hammers him and Sen. Ted Cruz is snapping at his heels. Can a candidate that half the American electorate thinks is an embarrassment win in November?"
According to the Quinnipiac University poll, a full 28% of Republican primary voters would "definitely not" support Trump. 
So how far ahead of the challengers is Trump? The real estate mogul has 28% of Republican primary voters' support, according to the Quinnipiac University poll, compared to Texas Sen. Ted Cruz' 24%, Florida Sen. Marco Rubio's 12% and retired neurosurgeon Ben Carson's 10%. The remaining candidates are all polling at or below 6%, according to the university. 
At the end of 2015, a fair number of Republican candidates remained in the race: former Florida Gov. Jeb Bush, New Jersey Gov. Chris Christie, former Hewlett Packard CEO Carly Fiorina, former Virginia Gov. Jim Gilmore, former Arkansas Gov. Mike Huckabee, Ohio Gov. John Kasich, former New York Gov. George Pataki, U.S. Sen. Rand Paul, former Pennsylvania Sen. Rick Santorum. Most recently, on Dec. 21, South Carolina Sen. Lindsey Graham withdrew from the running.
The pool of candidates are scanter on the Democrat's side. According to Tuesday figures from Rasmussen Reports, Clinton is polling at 46% compared to Sanders' 30% and 7% for former Maryland Gov. Martin O'Malley. Quinnipiac University's poll puts Clinton at 61%, ahead of Sanders' 30%. The CNN/ORC survey suggests Clinton's lead on Sanders is not as wide, at 50% to 34%. 
Next on deck for Republican and Democratic presidential hopefuls are early 2016 debates. The next Republican presidential debate will take place on Jan. 14 in North Charleston, South Carolina. The next Democratic primary debate will follow on Jan. 17 in Charleston, South Carolina.