These Indian College Students' Stories of Sexual Harassment Show It Happens Everywhere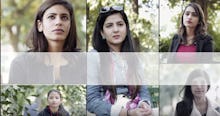 From directly confronting their harassers to viral social media posts and even school projects, women are speaking out against street harassment more than ever before. Given that a 2014 report by the organization Stop Street Harassment found 65% of American women have experienced it, these responses are clearly warranted. 
But the issue is one that undoubtedly extends beyond the United States — a reality that a group of Delhi University students revealed in "My First Experience With Sexual Harassment," a recently released Old Delhi Films video, BuzzFeed reported Monday.
While the students' individual experiences varied — from harassment in the home to on the street or in public places — the overall experience is a common one in India. One study revealed 7 in 10 Indian women have been sexually harassed, the Times of India reported in 2012, and an estimated 848 Indian women are harassed, raped or killed daily, according to a 2014 Huffington Post report. 
However, one notable detail united the women's stories: Many noted that they first experienced harassment well before adulthood — most commonly as teens but even at just "7 or 8" and in grade school. This is a theme common outside of India as well. One 2015 survey conducted by the organization Hollaback! and Cornell University found that 85% percent of U.S. women experience street harassment before the age of 17, and 67% of women report experiencing it before age 14. 
American women have also anecdotally bolstered this finding. One woman was groped on the first day of fifth grade and many others recall receiving lewd and objectifying remarks about their bodies at even younger ages, Mic's Mathew Rodriguez reported in September.
While this new film draws attention to the manifestation of harassment in India, the degrading phenomenon is ultimately a global one. One 2014 poll found that a third of women in London say they have been verbally harassed on public transportation, and 19% have been victims of direct physical abuse, according to the Independent. In April, an incredible 100% of French women polled reported having experienced sexual harassment on public transportation, the Independent also reported.
And yet despite harassment's pervasiveness, few women report it. Over 90% of the cases included in the aforementioned 2012 Indian poll went unreported — perhaps for good reason, given that 95% of those who did report were unsatisfied with the response received, according to the Times of India. Report rates are similarly low elsewhere: Over 90% of women who reported experiencing harassment on London transportation in 2013 didn't report the incidents either, according to the Independent.
"We face incidents of sexual harassment almost on a daily basis," one student says in the video. 
But that hardly means women should blame themselves for these experiences, she adds.
"Everybody is at fault," she says. "Society is at fault, the system is at fault."
Until the system changes, however, the students urged women to similarly speak out about their experiences.
As another student concludes, "If we won't stand up for ourselves, nobody will."
h/t BuzzFeed