This Travel Hoodie Is Made for People Who Always Wish They Were Sleeping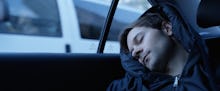 Naps are beautiful, magical things. Naps are restorative. Looking forward to naps is how we get through a day. In fact, we want to nap right now. If you do too, then let us introduce you to the genius beauty that is the Hypnos hoodie. 
Already fully funded on Kickstarter with 14 days to go, the hoodie has what you need to be a napper on the go: an ergonomic, inflatable neck pillow in the hood. Those days of awkwardly crooking your neck to one side or finding a hard surface to lean on are over. Basically, this jacket promises you can pretty much sleep comfortably anywhere, at any time.
The idea for the hoodie sprung up right where you'd expect: on the way to the airport. As co-founder Josh Woodle told Refinery29, he and his brother, Ryne, wanted to combine the comfiness of a hoodie with the ubiquitous travel accessory that is the neck pillow. 
Over the course of two years, the brothers tested the pillow-hoodie combination on several cross-country flights, finally landing on a design that can allow a user to inflate and deflate the pillow in three seconds for almost-immediate nap access. 
According to Refinery29, the pillows are also supposed to last you a lifetime; Hypnos offers $5 replacements along with a lifetime warranty. 
"The pillow had to be perfect," Woodle said. "It had to feature a new shape that was comfortable, versatile and inconspicuous to the outside world. Our next focus was to offer a beautiful hoodie that could transition from a day on the plane straight to the bar at night."
Travel hoodies make a splash: The idea of the "travel hoodie" has been an extremely successful one on Kickstarter alone. Earlier this year, a "travel jacket" from Baubax became one of the highest-earning Kickstarter campaigns all year (and the fourth-highest of all time), reeling in more than $9 million from a campaign with a mere $20,000 goal. 
That jacket comes with 15 features ideal for travel, like a portable pocket charger, a hand warmer, an eye mask, heated pockets and earphone holders. It boasts everything you could possibly yearn for while traveling in a flying tin can in the sky — which is likely why it was so successful. 
It also included, of course, the neck pillow feature. Because being able to sleep anytime, anywhere is really the kind of tech innovation we've been wanting. How else to explain the sleeping desk or work pillow that have sprung up in the past few years? 
Combine that with in a new culture of travel that has us zipping across the world in record numbers, for work or otherwise, and it's no shock we're in the market for products that let us sleep all the time. Now if we could only get built-in pillows into the rest of our clothing... 
h/t Refinery29