Police Shoot and Kill Man Caught Throwing Rocks at Phoenix Police Station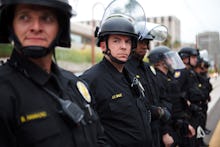 A 41-year-old white man died Saturday morning after being shot by police in Phoenix. According to CBS 5 News, Lonnie Nelson was seen throwing "bricks or rocks" at Phoenix Police Department property, including at a patrol car and the police station, and at an officer who later confronted him, around 11:45 a.m. 
The projectile missed hitting the officer directly, but ricocheted off a tree and grazed his hand, according to ABC15. The officer fired his weapon in response, killing Nelson. The 41-year-old was otherwise unarmed.
According to family members, Nelson had stolen a handgun and a bottle of alcohol the day before, but returned the weapon before leaving his home Saturday morning. He was reportedly "impaired" and making suicidal statements when he left.
The Phoenix Police Department did not immediately respond to Mic's request for comment on the incident. But as national discourse focuses increasingly on police killings of often unarmed people — especially people of color and those with mental illness — Nelson's death raises questions about appropriate police conduct in tense situations.
According to The Counted, a database from the Guardian that tracks officer-involved killings, 1,125 people have been killed by police in the U.S. in 2015. For perspective, that's almost 47 times the number of citizens killed by police in England and Wales in the past 25 years combined.
While racial disparities persist in these deaths — black people killed by police are more than twice as likely to be unarmed as whites — people who showed signs of mental illness also accounted for a staggering portion of victims. The Washington Post — which keeps a database of police killings focused exclusively on incidents where officers used firearms — found that 243 of the 965 people shot and killed by police in 2015 showed signs of mental illness. 
People with mental illness are also overrepresented in America's jails and prisons, with many correctional facilities reporting that anywhere between 20% and 80% of their inmates are mentally ill. To address these disparities, some police departments have developed special training and units designed to de-escalate situations involving mentally ill people, and to divert them from jail into treatment programs. 
Phoenix is home to one such department. In March, Phoenix police commander Michael Kurtenbach announced the formation of a seven-person "crisis intervention squad" aimed at diverting pick-ups of mentally ill people away from first responders in the department, according to the Arizona Republic. Instead, the squad would deal with mental health situations as they saw fit, prioritizing treatment over incarceration.
Kurtenbach added that about 580 of the Phoenix Police Department's 1,300 patrol officers had received crisis-intervention training as of late 2014, and would continue to do so as the new unit takes shape. "The last thing we want to do is criminalize mental health," he said.
As the investigation into the incident continues, Nelson's death appears to be at the intersection of all these issues. Two officers are on paid administrative leave pending further review of the shooting.
Correction: Dec. 28, 2015