Reneging on Key Promise, Obama Considering Maintaining Base in Afghanistan For Years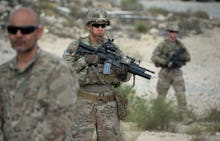 One of the key reasons Barack Obama was able to seize the White House in 2008 was that he was the only popular candidate in both in the Democratic race and the general election to make a credible claim to being an anti-war politician. But today it's as clear as ever that Obama's legacy will certainly not be that of a dove.
According to a New York Times report published Sunday, the Obama administration is contemplating maintaining a base in Afghanistan to serve as a hub for U.S. special forces  and intelligence operations "for years to come." That's a departure from an earlier pledge to only have troops protecting the U.S. embassy and a counterterrorism unit remaining in the war-ravaged nation after the U.S. completes its withdrawal in 2017.
Keep in mind the planned withdrawal in 2017 is itself a reversal — in October, Obama announced the postponement of pulling thousands of troops from Afghanistan after the administration determined that it would destabilize the country, potentially allowing it to once again become a bastion for terrorist operations threatening American interests. The announcement meant that ending the war will likely be a responsibility Obama passes on to the next president, and marked a repudiation of one of the central promises he made upon entering office — to end, during his tenure, the catastrophic military interventions launched by his predecessor.
The current plan is to have close to 10,000 troops in Afghanistan through most of 2016, and have it drop to around 5,500 some time between the end of 2016 and early 2017.
The special operations base in Afghanistan is part of a broader effort by the administration to opt for small, targeted use of special forces over large interventionist measures in its campaign to counter the rise of ISIS in Iraq and Syria and its global affiliates. So while much of the presidential campaign debate is over whether or not there should be boots on the ground to fight ISIS, it's already clear that Obama's agenda is to use them — just in small numbers. In the past few months the administration has deployed special operations forces to fight ISIS in Syria and an ISIS-aligned terrorist group in Cameroon.
Some national experts think that the use of special forces is largely consistent with Obama's foreign policy ethos.
"Obama was always clear that he wasn't anti-war, just anti-'dumb' wars," Heather Hurlburt, a policy director at the New America Foundation who worked in the State Department and the White House during the Clinton administration, told Mic. "He sees the heightened reliance on special ops forces, who volunteer and are trained for this range and difficulty of missions, exactly as an alternative to big 'stupid' ground wars. And indeed that may exactly be his legacy."
While it's true that Obama has never been anti-war as much as he has been deeply skeptical of the neoconservative propensity for nation-building, there are still questions surrounding whether or not using special forces is an effective middle ground. In a policy scenario devoid of good options, special forces are not the worst, but they're also probably inadequate for the massive problems they've been tasked with.
"The allure of special operations is that it avoids the high-profile and high-cost spectacle of large troop deployments and does provide valuable assistance and training to local forces," Patrick Skinner, director of special projects at the Soufan Group and a former CIA case officer, told Mic. "The problem is it won't be enough, even defining 'enough' as keeping the country from falling apart. The scale of the problem is enormous."
Skinner believes that while the base will allow the U.S. to gather some valuable counterterrorism intelligence in the region, it won't be able to do much more.
"The reality is these conflicts defy resolution imposed by outside military forces," he said. "Special operations with local partners does have great value; it's just that the underlying social and political rot in broken countries means that no matter what we try to build, it will collapse."
While Operation Enduring Freedom officially ended in 2014, it continues today in a subtler and quieter manner. So far it hasn't achieved its lofty promise of liberation, but it certainly is enduring.