'Game of Thrones' Is the Most Pirated TV Show for the Fourth Year in a Row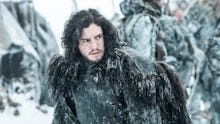 Pirates can't get enough of Game of Thrones.
For the fourth year in a row, HBO's swords-and-sex epic topped TorrentFreak's list of most-torrented shows of the year. It wasn't even close — Game of Thrones was downloaded over two times more than the second-most pirated show, AMC's The Walking Dead.
Genre dramas dominate the list, with comic book series Arrow, The Flash and Supergirl occupying three of the 10 slots. Pirates are also big fans of the History Channel's Vikings and USA's Mr. Robot. NBC's The Blacklist is the only network drama on the list, while The Big Bang Theory is the only comedy of any kind, network or cable.
Earlier this year, Game of Thrones set a piracy record when 1.5 million people downloaded the season finale in just eight hours. So its dominance for four years running comes as no surprise.
Interestingly, no streaming series appears on the list, either from Netflix, Amazon or Hulu. On the one hand, for cord-cutters increasingly subscribing to these services instead of getting cable, that makes perfect sense. On the other, considering many of these cord-cutters are also likely password-sharers, it's strange an HBO show comes out on top.
That may just be the power of Game of Thrones, though, as no other HBO series appear on the list. After all, this is a show that's kept people guessing all year about the fate of one character. Chances are all the pirates who downloaded Game of Thrones this year will be back to find out if Jon Snow is indeed alive come 2016.