The Star of 'Quantico' Perfectly Defined What Makes an "Empowered" Female Character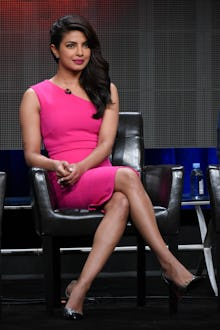 Depictions of strong female characters are undeniably few and far between in the mainstream media. Actress Priyanka Chopra's portrayal of Alex Parrish, protagonist of the action-packed ABC thriller Quantico, is a notable exception. While the crime-fighting FBI recruit's strength may be most obvious in her physical prowess, the root of her empowerment is far more nuanced — and, according to the actress, based in a feminist mentality.
"I think empowerment is independence," the Bollywood actress and critically acclaimed star explained during a recent appearance on Indian journalist Barkha Dutt's show Town Hall.
Her character's liberation, the actress elaborated, is rooted in "individual choice." For example, while Chopra may not personally make the same choices as her character — like having casual sex — her character's ability to live "life on her own terms" is not only empowering, but "what feminism actually stands for," she concluded.
That women are still generally "not empowered to make their choices," Chopra added, is part of why she personally identifies as a feminist.
"Unfortunately, feminism has been tagged with man-bashing and man-berating and man-hating, which it's not," she said. "A feminist is just a person who is saying, 'Give me my right according to my merit and don't see me as a woman or a man. Give me a job because I'm good at it.'" 
Chopra's remarks are ones the entertainment industry clearly still needs to hear. Women accounted for only 12% of on-screen protagonists and 30% of all characters with speaking parts in 2014. And white actors were cast as leads twice as frequently as people of color, Time reported a 2015 Women's Media Center report found. 
The actress' comments join a growing chorus of industry insiders pushing back on this sexist standard. Actresses like Jessica Chastain, Jennifer Lawrence and many others have spoken out about not receiving the same opportunities or treatment as their male counterparts. 
What's more, better representation of "empowered" female characters isn't just a matter of fairness or equality, but a smart business decision for the industry at large. As Mic's Kevin O'Keeffe reported in October, films with female protagonists actually out-earn those with male leads. Actress and producer Reese Witherspoon drove this point home in November when she similarly noted that making films centered on female characters is not a "public service project" but a "big-time, bottom line-enhancing, money-making commodity," according to Entertainment Weekly.
It's a problem, Chopra noted, that she has also faced in the Indian film industry, and one she plans to continue to fight. Ultimately, "filmmaking is storytelling," she concluded. "I will always fight for the right of an artist ... to make the film we want."
h/t Youth Ki Awaaz