Timbaland Included an Unreleased Aaliyah Track on His Latest Mixtape — And It's Fire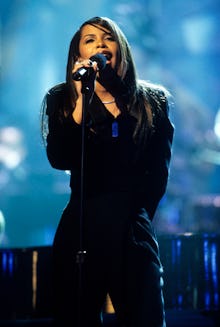 Timbaland and Aaliyah were a musical match made in heaven. As producer and performer, the duo crafted some of the young R&B star's biggest hits: "One in a Million," "Try Again" and "I Am Music." It seems Timbaland has even more tracks recorded but never saw a release due to the singer's untimely death in a plane crash in 2001. Now, the super producer is starting to share them with the world. 
On Christmas Day, Timbaland dropped his King Stays King mixtape. It featured rhymes from some of the biggest up-and-coming MCs of today — including Young Thug, Tink and Rich Homie Quan — and an unreleased track from the R&B legend herself. Titled "Shakin,'" the song features a soft-spoken Aaliyah praising her love's irresistible swagger over a classic, bouncing Timbaland beat.
Source: Soundcloud
Timbaland has previously been very protective of Aaliyah's recordings. In 2013, he spoke to Revolt TV about the recent records Drake and Chris Brown put together using snippets of her previously recorded vocals. "People always say, 'I'm going to do a song with Aaliyah,'" he said. "It will never work. Chris Brown got a record, it won't work. Drake can go do a record with Aaliyah, it ain't gonna work. Aaliyah music only work with its soulmate, which is me."
The Virginia-born producer was also extremely critical of the 2014 Lifetime biopic Aaliyah: The Princess of R&B. "Hope y'all not watching this," he captioned one of a series of Instagram posts, railing against the film.
Timbaland seems to be looking to take her legacy into his own hands. In August, he seemed to suggest there will be a lot more unreleased music on the way. Perhaps "Shakin'" is only the tip of the iceberg. More may come on Timbaland's upcoming full-length Textbook Timbo, dropping in 2016. In the meantime, listen to the entirety of King Stays King below.