This Inmate Alleges She Was Brutally Raped by Guard — And Mailed Her Friend the Evidence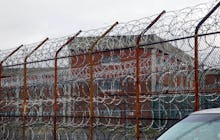 When a female inmate at Rikers Island was allegedly raped by a guard, she didn't report the incident to prison authorities.
Instead, 47-year-old Jacqueline Healy made the decision to mail potentially incriminating DNA evidence — torn sections of her shirt — to her friends and family on the outside, according to a New York Daily News report.
Healy told the Daily News a correctional officer raped her while she was cleaning in the complex's Rose M. Singer Center on Nov. 30, locking her in a closet-sized room. Following the assault, she told a prison doctor "something happened and someone hurt me," though she did not tell the doctor — who she said appeared not to care — she was raped.
"She said she never told the doctor she had been raped, fearing retaliation," the Daily News reports. "Back inside her cell, she ripped off two pieces off her shirt and mailed one to a sister and another to a friend in Queens."
Healy accused another officer of sexually assaulting her at Rikers in 2011 after she was arrested for bank robbery, though that allegation never resulted in charges due to a lack of DNA evidence.
The inmate had good reason to suspect prison authorities might treat the allegation with little regard.
According to the Nation, the Bureau of Justice Statistics reports that in 2011 to 2012, "32 people per 1,000 were sexually abused in jail; 40 people per 1,000 were sexually abused in prison; and 95 youths per 1,000 were sexually abused in juvenile detention facilities ...  [among free women, the rate of sexual assault was] 1.3 per 1,000 females over the age of 12 in 2012, meaning that a prisoner's likelihood of becoming a victim of sexual assault is roughly 30 times higher than that of any given woman on the outside."
Many of the assaults are being committed by staff members like guards.
In an April op-ed in the New York Times, writer and former inmate Chandra Bozelko wrote, "Prisons protect rape culture to protect themselves. According to the Bureau of Justice Statistics, about half of prison sexual assault complaints in 2011 were filed against staff ... The Justice Department estimates that the total bill to society for prison rape and sexual abuse is as high as $51.9 billion per year, including the costs of victims' compensation and increased recidivism."
Despite this, the perpetrators are rarely ever prosecuted.
If Healy's allegations pan out, it would be far from the first time such an incident has has happened at Rikers. In September, public advocate Letitia James told Broadly that Riker's Rose M. Singer Center is "one of the nine worst jails" in the U.S. for sexual assault.
In May, two women sued the New York City government for repeated rapes endured in the prison's custody, writing the city "enabled a culture of complacency to perpetuate at Rikers Island and thereby consented to the abuse of women in its custody."