These Are the 11 TV Shows You'll Be Obsessed With in 2016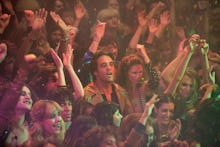 Looking back, 2015 will be remembered as the year of peak TV. Counting scripted series alone (no reality), 409 TV series hit network, cable and streaming services this year. That is, to put it bluntly, too much TV. Even someone dedicated to just watching TV, eating and sleeping would not have been able to watch all of it.
2016 looks to continue that tradition, which makes it important to determine which are the best shows early and often. What's going to be your new weekly obsession? What will you binge all in one day? These are the 11 to get excited about.
American Crime Story: The People vs. OJ Simpson
Network: FX
Ryan Murphy is bringing his patented brand of anthology storytelling to the crime world. American Crime Story tells the tale of the O.J. Simpson trial, easily one of the most influential televised events in history. There's some dubious casting choices happening (John Travolta and David Schwimmer as attorneys Robert Shapiro and Robert Kardashian, respectively) alongside some brilliant ones (Connie Britton as "the morally corrupt Faye Resnick"). Yet according to the trailer, Murphy favorite Sarah Paulson will be shouldering much of the burden as prosecutor Marcia Clark. For this miniseries to be creatively successful, she'll need to bring it.
Billions
Network: Showtime
Damian Lewis clearly proved his worth to Showtime through three seasons of work on Homeland. The network has created a new show for him, Billions, in which he stars as a hedge-fund tycoon. He's squaring off against Paul Giamatti as a U.S. attorney, meaning we're in for a lot of men growling at each other about money. From the looks of the trailer, though, it's going to be incredibly entertaining.
11.22.63
Network: Hulu
James Franco plays a time traveler sent back to stop the assassination of President John F. Kennedy in this adaptation of a Stephen King novel. Need any further convincing? Okay, it's also an eight-part miniseries on Hulu featuring esteemed actors like Cherry Jones, Chris Cooper and more. Hulu has some hits on its roster (including the Golden Globe-nominated Casual) but has yet to produce a giant, buzzy sensation. 11.22.63 could be the ticket.
Fuller House
Network: Netflix
"Whatever happened to predictability?" Certainly no one could have predicted the Full House cast would reunite decades after the show's end for a Netflix revival. Yet here we are, with a teaser showing the old house once again. The new series will be a gender-flip on the original: D.J. Tanner (Candace Cameron Buré) is a widow raising her three sons with best friend Kimmy (Andrea Barber) and sister Stephanie (Jodie Sweetin). Everyone from the original series, other than the Olsen twins, is set to reappear. Nostalgia bait? Absolutely. But for fans, it'll be the perfect winter treat.
Idiotsitter
Network: Comedy Central
Can the channel that produced Inside Amy Schumer and Key and Peele produce another comedy sensation? Formerly a web series, Idiotsitter stars Jillian Bell and Charlotte Newhouse as wealthy dilettante and babysitter pair who get into shenanigans. The vibe is very Broad City with a twist, and Bell has proven her comedic chops in Workaholics and 22 Jump Street. Unless something really gets lost in translation from the web series, this should be a runaway hit.
Legends of Tomorrow
Network: The CW
With Arrow and The Flash under their belts, the CW is looking to expand their superhero brand. They'll take their next step with Legends of Tomorrow. There are a few bold-faced names here — former Superman Brandon Routh, theater actress Ciara Renée, beloved character actor Victor Garber — but the team of heroes fighting together will give this an Avengers-lite appeal. For added value, Legends of Tomorrow will reunite former Prison Break co-stars Wentworth Miller and Dominic Purcell. There's plenty to love here, even if the other superhero series haven't tickled your fancy.
The Magicians
Network: SyFy
You may have already seen the first episode of The Magicians: The pilot aired on SyFy earlier this month, but the full series is yet to come. Based on Lev Grossman's novel, The Magicians follows the peculiarly named Quentin Coldwater, a magician-in-training who discovers that his favorite book series, Fillory and Further, is not fiction at all. Using his own powers, he'll need to fight back against the books' magical world. The Magicians should prove to be the perfect bit of fantasy for those looking for a cross between Sherlock and Game of Thrones.
Mozart in the Jungle
Network: Amazon
Yes, Mozart in the Jungle's second season technically launches in 2015. But unless you plan on spending your New Year's Eve watching a series about the New York Symphony, you'll likely be taking in Mozart in the Jungle early next year. There's good reason to: Mozart is one of the most delightfully off-kilter series. 
It's incredibly niche, which makes it a perfect representative of what streaming TV can be. It explores the world of classical music through the eyes of an oboe newbie (Lola Kirke) and a legendary conductor (Gael Garcia Bernal). This surprisingly ambitious season also delves into the love life of the 60-something chair of the symphony (Bernadette Peters), takes a trek to Mexico and more. Both seasons together total just 10 hours — it's an easy binge and a worthy escape into the unfamiliar.
Vinyl
Network: HBO
HBO's latest prestige series has qualitative weight to spare. The pilot was directed by Martin Scorsese, and the series stars Bobby Cannavale and Olivia Wilde. Most intriguingly, Mick Jagger serves as an executive producer, perfect for a rock series set in the '70s. Cannavale plays a self-destructive record label exec with a company to save. It's Scorsese for the Empire age: Soak it in.
The X-Files
Network: Fox
The revival is out there — and less than a month away from debuting on Fox. The X-Files' much-hyped reunion will feature the original Mulder and Scully (David Duchovny and Gillian Anderson) reuniting for a limited series. Everything released so far makes it look like a worthy return to the X-Files universe. The question for fans will be: Is the limited run going to be enough for them?
Younger
Network: TV Land
Before you scoff at the network, look closer at Younger. The TV Land series is far cuter and more interesting than it would seem, starring winning theater star Sutton Foster as a 40-something pretending to be a millennial for a job. The first season was an unexpected find, full of heart and complex relationships between women (other actresses on the show include Debi Mazar, Hilary Duff and Miriam Shor). Comparatively, the men (led by love interest Nico Tortorella) serve mainly as eye candy. It's bubble-gum entertainment with surprising nutritional value. What's not to love?