A 'Star Wars' Fan Built a Millennium Falcon Out of Legos — Here's What It Took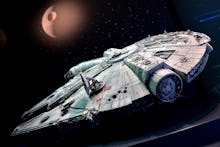 Sascha Steinbach/Getty Images
The seventh installment of the inter-planetary epic Star Wars, titled Star Wars: The Force Awakens, has been shattering records at the box office following its Dec. 18 release, after fans appeared by the masses to catch the premiere. Though the film has drummed up no shortage of hype in the long lead-up to its debut, one fan took Star Wars mania to the next level by building an intricate Lego model of the fabled starship the Millennium Falcon. According to the ship's builder, the construction process was no quick feat.
"It took me a whole year to accomplish this build (including planning and collecting bricks)," wrote the model's builder, who goes by the moniker Marshal Banana via his Flickr page. The Huffington Post reported that the builder's real name is Hannes Tscharner, a 32-year-old Swiss national and creative director for a German tech firm based in Munich. A full 7,500 Lego pieces were used in the construction of the spaceship replica, and the resulting product weighs in at 22 pounds and measures nearly three feet in length. 
Read more:
Head here to see a photo gallery of the Millennium Falcon model.
"My main goal was to present the model in a flying position, which was a huge task," Tscharner wrote in a photo caption on Flickr, adding that an individual named Scottish Dave deserved credit for the radar dish design. "Due to its internal framework it was not possible to include an interior, but I was able to fully lighten the model. And there was still enough space left to include a detailed cockpit (with four seats), gunner's platform and a lowering ramp."
In the film series, created by famed American filmmaker George Lucas, the much-loved starship belongs to Hans Solo.
According to the Associated Press, the newest Star Wars film broke the record for the fastest movie to reach $1 billion at the box office — reaching the $1 billion mark in 12 days. The film dethroned Jurassic World, which was the previous record-holder. It took Jurassic World 13 days to pull in $1 billion at the box office.
"You almost have to rewrite all the record books for this movie," a box office analyst for Rentrack, Paul Dergarabedian, told the AP. "It's absolutely mind-blowing that Star Wars could get to a billion dollars in 12 days and it hasn't even opened in China, the second-biggest movie market in the world."
Correction: Dec. 28, 2015