Puerto Rico Police Station Shooting Leaves 3 Dead After Officer Opens Fire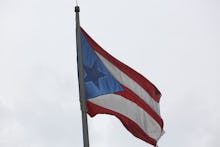 Joe Raedle/Getty Images
A Puerto Rican law enforcement officer opened fire at a police station in Ponce, Puerto Rico, on Monday, killing three of his fellow officers — a commander, a lieutenant and an officer — according to a tweet from Puerto Rico police. The suspect was in custody, though his name was not immediately released.
"There are no words to describe this tragedy where three colleagues have lost their lives," said Puerto Rico Police Deputy Superintendent Col. Juan Rodriguez Davila, according to CNN. 
According to the Associated Press, the shooting followed an argument at the police headquarters, located on the country's southern coast. The AP also reported that authorities evacuated the scene after they received a tip of alleged explosives in the gunman's car.
A local news outlet, Primera Hora, identified the victims as Lt. Luz M. Soto, 49; Cmdr. Frank Román Rodríguez, 49; and agent Rosario Hernández De Hoyo, 42. On Twitter, Puerto Rico police described Monday's events as "tragedy" and offered condolences to the families of the slain officers. 
Speaking to the AP, a police spokeswoman, Mayra Ayala, said the suspect worked in the police department's anti-drug division, has been arrested and reportedly held all three officers hostage before killing the victims.
Dec. 28, 2015, 12:41 p.m.: This story has been updated.