iPhone 7 Rumors: Info on Possible 2016 Release, Design and Features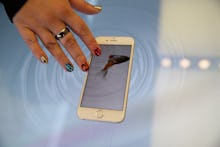 Eric Risberg/AP
Although the iPhone 6 and iPhone 6s hit shelves just three months ago, rumors for the iPhone 7 are already swirling. Apple has yet to release or confirm any rumors, but the newest generation is still expected to launch in the fall of 2016 with upgraded features, MacRumors reported. 
Read more:
Design: Apple usually employs design makeovers during even-numbered years (with odd-numbered upgrades being marked with the "S"), according to CNET, which means one is due for 2016. The new phone might be composed of plastic of LiquidMetal rather than the heavier 7000-series aluminum, Mashable reported in September. The phone is also heavily rumored to be the slimmest, at 6 mm to 6.5 mm, according to Highsnobiety. The iPhone 6 is 6.9 mm.
The longtime Lightning connector might be rendered useless and replaced with a USB Type-C, which is now the only port featured on the MacBook, Forbes reported.
Earlier this month, not-so-loved rumors surfaced that Apple would also remove its 3.5mm headphone jack in attempts to slim the phone, Forbes reported. People would need to buy either special Apple headphones or adapters, or go wireless.
Speaking of wireless, the iPhone 7 is rumored to become the first wirelessly charged iPhone, possibly using Qualcomm's wireless charging technology, International Business Times reported.
Perhaps one of the biggest rumored design features is that the iPhone 7 will be waterproof, according to Mashable. So long, GoPro. On Dec. 10, Apple reportedly applied for a patent for port seals that self-heal to block water, according to Macworld. Keep in mind that companies like Apple apply for patents that aren't ultimately used.
The new phone might also eliminate the home button in favor of 3D Touch on its path to becoming more sleek, but that would be a radical change, CNET reported.
Hardware: The iPhone 7 Plus is expected to use 3 GB of RAM, and the iPhone 7 to have 2 GB of RAM, like the 6 and 6s do, according to International Business Times. TSMC, which produced the iPhone 6 and 6s' Apple A9 chips, is reportedly set to produce the Apple A10 chips for the newer generation. 
Display: To many butterfingers' delight, the new iPhone might boast a sapphire display, which is a very shatter-resistant glass, CNET reported. Some Apple products like higher end Apple watches have sapphire displays. 
In most cases, these rumors start with blogs in China, and should be taken with a grain of salt. Earlier this year, a fake video of what was supposed to be an iPhone 7 prototype was leaked and then debunked, MacRumors reported.