New Year's Underwear Traditions Are a Thing, as Demonstrated by This Shirtless Video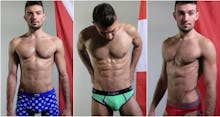 Shopping for an excessively sparkly New Year's Eve outfit you'll probably never wear again — hello, Forever 21 — is the kind of New Year's tradition we're used to. Shopping for certain kinds of underwear? That's a custom common in other countries that might not be familiar to many Americans.
The helpful folks at the Underwear Expert are introducing the uninitiated to the tradition of wearing special colored underwear on New Year's Eve. Panty traditions are especially common in Latin America, though the specific colors vary by country and omen. (Yellow for happiness? Prosperity? Good luck?)
"We developed our research from targeted polling and speaking to our readers across various countries," Daniel Addice, managing editor at The Underwear Expert, told Mic. "As for Italy, I had that tidbit instilled upon me by my parents at an early age, byway of receiving red undies as a gift on Christmas every year," he added. 
A specific color can't guarantee you the year you want — but we suppose it can't hurt. Here are just a few of the colors that have cropped up as New Year's traditions across the continent, in the now-classic form of a fashion time-lapse video.
If you need some New Year's Eve outfit inspiration, try some...
Yellow undies
Polka dot undies
Green inside-out undies
Red undies
... and more red undies
... and even more red undies
Blue undies
Orange undies
Pink undies!
Yeah, that's a lot better than those goony New Year's Eve glasses. Check out the full video below:
Dec. 28, 3:27 p.m.: This story has been updated to include comment from Daniel Addice of The Underwear Expert.