Woman and Man Brutally Caned in Public in Indonesia For Crime of Affectionate Contact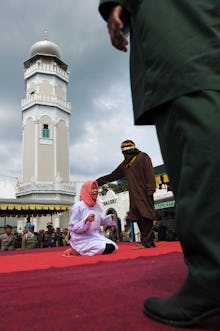 A woman who was accused of being too friendly with a man she is not married to, as well as the man himself, were caned at a mosque in Indonesia's Aceh province on Monday.
According to the Jakarta Post, the caning took place before a yelling crowd at Baiturrahim Mosque in Banda Aceh after the couple was sentenced according to the city's Sharia bylaws, which criminalize "khalwat (affectionate contact by an unmarried couple)."
"Take these punishments as a lesson. What has been done by these convicts should not be taken as an example. And, I hope their canings in Meuraxa district today will be the last ever," Deputy Mayor Zainal Arifin told the crowd, according to the Post. "And to the public, I ask that you do not isolate those who have been convicted here today. And also, those who have been convicted are reminded not to repeat the same mistakes."
The man Nur Elita was with, fellow university student Wahyudi Saputra, was also caned, as were four men accused of gambling.
Aceh province is the only part of Indonesia where punishments are handed down under Sharia.
According to Reuters, the province only recently adopted a legal code based in a conservative interpretation of Islamic law, completing the transition from a secular legal code in October 2015 in accordance with legislation originally passed in 2014.
Aceh's conservative Islamic code, however, stands at odds with much of the rest of the country, which has a long tradition of more liberal interpretations of Islamic scripture. The 50-million-member Nadhlatul Ulama group, which boasts massive influence on Indonesian politics and is the world's largest independent Islamic organization, opposes religious extremism.
"The spread of a shallow understanding of Islam renders this situation critical, as highly vocal elements within the Muslim population at large — extremist groups — justify their harsh and often savage behavior by claiming to act in accord with God's commands, although they are grievously mistaken," A. Mustofa Bisri, the spiritual leader of the group, told the New York Times. "According to the Sunni view of Islam, every aspect and expression of religion should be imbued with love and compassion, and foster the perfection of human nature."