19 Terrifying Images From the Deadly Storms Ripping Through the United States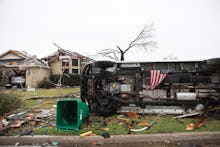 At least 24 people are dead after a massive storm system surged across much of the United States, in particular the Midwest and South, with CNN reporting "deadly tornadoes in Texas, intense flooding in the Midwest and blizzard conditions in New Mexico."
The deaths were reported in Missouri, Illinois and Texas. Including those fatalities, severe weather across the country has claimed at least 43 lives since last week, according to CNN.
According to the Atlantic, the governors of Missouri and New Mexico declared states of emergency following the damage, while in Dallas, one of the tornadoes that ravaged the landscape was measured at the secondmost serious rating of EF-4, with winds surpassing 200 mph.
"The storm system will gradually pull away by Tuesday, but flooding and treacherous travel could (linger) into midweek," the National Weather Service said, according to CNN.
Here are 19 photos that tell the story:
Chicago
Northern Mississippi
Lubbock, Texas
Rowlett, Texas
Ellis County, Texas
Garland, Texas