'American Idol' Season 15: Kim Kardashian Shares Video of Kanye West's Audition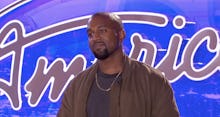 Mic/Twitter
It's officially Yeezy season. Kim Kardashian tweeted a video of her husband, rapper and producer Kanye West, joining the likes of thousands of American Idol contestants as he auditioned for the singing competition's 15th and final season. The clip shows West walking into the audition room in the typical American Idol audition setup, describing his Chicago roots as his biggest supporter, Kardashian West, cheers him on and awaits the verdict from outside of the room with host Ryan Seacrest.
"I'm not nervous because I do really believe in him," Kardashian West tells a nodding Seacrest as dramatic theatrical music plays above the scene. 
The tweet, which was posted late Wednesday night, has already received more than 5,000 retweets and nearly 12,000 likes. American Idol's Twitter page immediately replied, writing, "@KimKardashian WE CAN'T WAIT FOR THIS!!!! #KIMYE #IDOL"
The show's farewell season premieres Jan. 6 on Fox. Check out the video Kardashian posted below: