Grand Jury Decides Not to Indict Officers for Fatal Shooting of 12-Year-Old Tamir Rice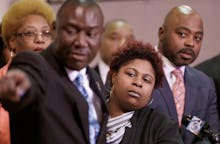 Cuyahoga County, Ohio, prosecutor Tim McGinty announced Monday there would be no indictment or criminal charges filed in the police killing of a 12-year-old black boy in Cleveland last year.
The family of Tamir Rice — who was shot at the Cudell Recreation Center on Nov. 22, 2014, by police Officer Timothy Loehmann — had been expecting a non-indictment for some time, according to the Associated Press.
The Cleveland grand jury considering evidence in the case had been meeting for weeks, in one of the more scrutinized and controversial instances of police violence against black people of the past year and a half. The grand jury's recommendation not to file charges was "my recommendation as well," McGinty said.
"Today, more than a year after Cleveland police shot and killed 12-year-old Tamir Rice, a grand jury voted not to indict the shooter," the Rice family's attorneys said in a statement. "Tamir's family is saddened and disappointed by this outcome—but not surprised."
Loehmann and Officer Frank Garmback encountered Rice last fall while responding to a 911 call about a "guy here with a pistol" that was "probably fake," according to the caller. Loehmann reportedly shot the child less than a second after pulling up alongside him in his patrol vehicle.
Rice had a toy pellet gun in his possession, but appeared to have his hands in his pockets at the time of the shooting, according to some expert analyses of surveillance footage showing the shooting. Rice died in a hospital the next day.
Critics have bemoaned the tactics used by McGinty in building the case, which has taken 13 months to reach Monday's conclusion. In the alleged name of transparency, McGinty has released pieces of evidence and expert analyses to the public over the course of the investigation — including analyses from a Colorado prosecutor and a former FBI supervisory special agent in October — saying the shooting was justified.
"We have never seen a prosecutor try so hard to lose a case," Jonathan S. Abady, a lawyer for Rice's mother, Samaria Rice, told the New York Times.
Loehmann previously resigned from his job patrolling for the Independence (Ohio) Police Department after a scathing performance review from the deputy police chief there, which referred to Loehmann as "distracted" and "weepy" and saying he "had issues with handling guns."
"[Loehmann] could not follow simple directions, could not communicate clear thoughts nor recollections and his handgun performance was dismal," wrote Deputy Police Chief Jim Polak.
Meanwhile, nationwide protests against anti-black police violence have consumed the U.S. since the summer of 2014. At least three of these fatal incidents — the killings of Rice, John Crawford III and Sam Dubose — took place in the state of Ohio.
Dec. 28, 2015, 3:21 p.m.: This story has been updated.
Correction: Dec. 28, 2015