Here's a First Look at Benedict Cumberbatch in Marvel's 'Doctor Strange' Movie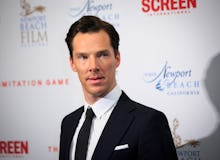 John Phillips/AP
Marvel's Doctor Strange won't make it to the big screen until Nov. 4, 2016, but thanks to Entertainment Weekly, fans can get a look at the film's star — Sherlock's Benedict Cumberbatch — in full Sorcerer Supreme regalia. EW gave readers a sneak peak at photos of Cumberbatch as Doctor Stephen Strange in this week's First Look issue. According to the British actor, channeling his inner sorcerer and getting the spell-casting choreography down has been a tricky business.
"I'm still in the infancy of learning all that," he told EW. "It was like, okay, I've got to keep throwing these poses, these spells, these rune-casting things, everything he does physically. ... It's like anything, you just have to experiment."
Cumberbatch has time for that: EW reports that the movie is in its very earliest production phase and won't wrap until March. While Tilda Swinton, Rachel McAdams, Chiwetel Ejiofor and Mads Mikkelsen have also joined the cast, Marvel is only now revealing which parts McAdams and Mikkelsen will play. To find out more, interested parties will have to buy the magazine — it's on newsstands now, or available for purchase here.