Strangers Pay for Muslim Family's Dinner at Olive Garden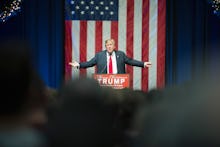 Scott Olson/Getty Images
Christmas spirit was in high gear at an Olive Garden in Augusta, Georgia, when strangers paid for a Muslim family's dinner on Thursday, according to a now-viral Facebook post. The family, a group of seven adults and five children, was noticeable for speaking Arab and wearing hijabs, according to one of its members, an Eslam Mohamed. The waitress returned with the $138 receipt, which read "Paid. Merry Christmas Beautiful Family." 
The family has no inkling who paid the bill. 
"I can't express how this act touched our hearts," Mohamed wrote. "Among all the bad things happening to Muslims and the hate speech that the presidential candidate had made lately, there is still light in the dark, there is still hope within the frustration." 
The presidential candidate Mohamed refers to is likely Republican frontrunner Donald Trump, who called for a "total and complete shutdown" of Muslims entering the U.S. In November, Trump promoted a controversial plan for stricter surveillance of Muslims entering and living in the U.S. through the use of ID cards or a database. 
Terrorist attacks in Paris and San Bernardino, California, seemed to have fanned the flames of Islamophobia, which has been steadily on the rise since the Sept. 11, 2001, terrorist attacks. 
"All what i can say to who did that, Merry Christmas to you too and God bless such a beautiful heart you have," Mohamed wrote. Since being posted on Christmas Eve, the post has been shared more than 20,000 times.