2015 and the Year Women Owned Comedy: Why We Finally Felt the 'Bridesmaids' Effect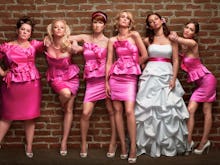 A few years after the success of Bridesmaids, the Kristen Wiig film is finally having an impact on comedy. There were three comedies in the top 25 at the box office this year: Trainwreck, Spy and Pitch Perfect 2. Each one is led by women.
Immediately after its success, commentators wondered if the success of Bridesmaids would have an impact on the industry. At the time, Bridesmaids' triumph made it clear audiences were hungry for female-driven comedies. But it took some time for the full effect to become clear.
In 2015, Spy, Pitch Perfect 2 and Trainwreck all made at least $100 million and received positive to glowing reviews. The other notable comedies this year (mostly led by men) failed to do either. The poorly reviewed Get Hard earned a respectable $90 million, while the mediocre Ted 2 earned not even close to half of its predecessor's gross, with just $81 million. While it was well-received, The Night Before made only $43 million after a month of release. The message ticket-buyers are sending is clear: Women-driven comedy is queen.
Yet this change didn't happen all at once. In 2012, directly following the success of Bridesmaids, Pitch Perfect broke out from under the radar. Its success across the board was unprecedented; the film had a budget of just $17 million and earned over $100 million worldwide. While a surprise smash, it trailed behind the (mostly) male-led comedies that year. That would change the very next year.
The highest grossing comedy of 2013 was The Heat, beating out We're The Millers and Identity Thief, both of which had male co-leads. The film was a hit, thanks to the clever pairing of the bankable Sandra Bullock and newfound movie star Melissa McCarthy. The next year saw male-driven comedy back on top, however, as the most successful comedy of 2014 was 22 Jump Street.
That said, the other comedies of 2014 with female leads were also successful. Neighbors, featuring co-protagonist Rose Byrne, Tammy and The Other Woman were all big earners. While neither Tammy nor The Other Woman were well received, both were profitable based on their small budgets. Although not particularly memorable, Tammy proved McCarthy could open even a disliked film on her own, while The Other Woman was another win for Cameron Diaz following Bad Teacher. Thus, the stage was set for funny women to take the throne in 2015.
What was it about Bridesmaids that caused this change? Female-driven comedies existed before, after all. Yet Bridesmaids was a watershed moment for women in comedy. It featured women in a typically male-governed setting, the raunchy comedy, and owning it. At the same time, The Heat used the male-driven buddy comedy trope to a similar advantage; both films appealed to men and women, and their R ratings gave them an edge.
Additionally, although directed by Paul Feig, Bridesmaids was a passion project written by two friends: star Kristen Wiig and her writing partner Annie Mumolo. As a result of their success with the film, the genre has seen an influx of influence from women behind the camera. Elizabeth Banks directed Pitch Perfect 2. Tina Fey and Amy Poehler were both producers on Sisters; their fellow Saturday Night Live alum Paula Pell wrote the script. Amy Schumer wrote and starred in Trainwreck, her first feature film. Not only are women thriving creatively in comedy, they are also being rewarded for it.
Broad comedies are often left out of the awards discussion, but Bridesmaids helped break ground there, too. The film earned McCarthy a best supporting actress nomination, and Wiig and Mumolo received a nomination for best original screenplay at the 2012 Academy Awards. This year's female-driven comedies felt that effect; so far, Trainwreck and Spy have earned several Golden Globe nominations, with Oscar nominations still ahead.
Looking ahead, it's the female-driven projects that are the most exciting. 2016's all-female Ghostbusters reboot looks promising for next summer. Further off, McCarthy's former Heat co-star Bullock is rumored to be circling an all-female Ocean's Eleven reboot — one plum for dream casting. Which of the amazing women featured in these projects will return?
After several years hinting at change, the Bridesmaids effect is finally translating into women at the forefront of comedy in film. Considering the dearth of roles for women in any films in the past, this can only be seen as a good sign — and a profitable one, too.
Read all of Mic's year-in-review coverage here.