2016 Critics Choice Awards: Air Date, Nominees and Predictions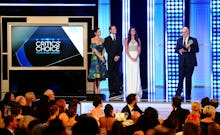 Vince Bucci/AP
The Critics' Choice Movie Awards, an annual event by the Broadcast Film Critics Association and the Broadcast Television Journalist Association, is scheduled to air on Jan. 17 at 8 p.m. Eastern. The awards show will be televised live on A&E, Lifetime and the Lifetime Movie Network. American actor and comedian T.J. Miller will be the evening's host. 
According to the BFCA and BTJA, the year's most-nominated film is Mad Max: Fury Road, which raked in 13 nominations. Among the other most-nominated movies are Carol, The Martian and The Revenant, all three of which have been nominated nine times. Networks with the leading number of nominations include ABC, FX Networks and HBO. 
"This is a new Golden Age in Hollywood, with a dazzling array of spectacular, delightful and illuminating films and programs to choose from," said BFCA/BTJA President Joey Berlin in a statement. "These nominations not only honor extraordinary achievements but they serve as an incredibly helpful guide to the best of the best for viewers and ticket buyers. We always tell the creative community, show us your best work and we'll help the world find it – and that's what we're doing today."
Spotlight trailed Carol, The Martian and The Revenant with eight nominations. Seven-time nominated film The Big Short follows this year's most-nominated films, as does The Hateful Eight, which pulled in six nominations. In the running with five nominations are Bridge of Spies, Brooklyn, The Danish Girl, Jurassic World and Sicario.
As for actors and actresses nominated this year, Jennifer Lawrence is up for three awards, including best actress and best actress in a comedy for her work in Joy, in addition to the award for best actress in an action movie for her performance in The Hunger Games: Mockingjay Part 2. 
Tom Hardy is up for two awards this year, including best supporting actor for his performance in The Revenant and the award for best actor in an action movie for his appearance in Mad Max: Fury Road. Also nominated for two awards is South African/American actress Charlize Theron, who is nominated for best actress in an action movie as well as best actress overall for her work in Mad Max: Fury Road.
Predictions: Amazon's hit series, Transparent, is up for six nomination at the 2016 Critics' Choice Awards. In 2015, the show's leading actor, Jeffrey Tambor, took home a Golden Globe for his performance and is nominated for the same award at the 2015 Golden Globe Awards. Tambor is nominated for the award of best actor in a comedy show at this year's Critics' Choice Awards. 
Transparent was recognized and won distinctions at the Primetime Emmy Awards, won the award for the best TV series at the 2015 Golden Globes, and has been nominated as best television series at the 2016 Golden Globes, just to name a few of its many recent distinctions. Given its success so far, it's possible Transparent or its actors, like Jeffrey Tambor, Anjelica Huston and Jay Duplass, will earn accolades at this year's Critics' Choice awards. However, it will compete with FX Networks' Fargo, which has pulled in eight nominations, more than any other show this year.