Snow in Northeast: Here's What the First Winter Storm Is Expected to Bring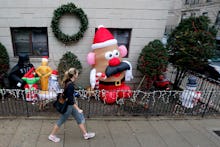 Julio Cortez/AP
The time has finally come for people living across the northeastern United States to unpack their winter coats and crank up the heating. The National Weather Service issued its first seasonal weather warning of the winter season on Monday, alerting residents throughout the unusually warm region their area will see snowfall just in time for the new year. 
According to the experimental potential snow accumulation charts the organization uses to indicate possible outcomes, the most likely snowfall to hit the northeast is set to arrive sometime during Monday night into Tuesday morning and will impact Massachusetts, Connecticut and Rhode Island.
New England residents can thank the winter storm Goliath for the forthcoming onslaught, as the seasonal storm is bringing along a low pressure system, which will impact much of the Midwest, from Oklahoma to northwest Ohio, according to the Weather Channel. The predicted snow will be seen across central and western New York, Pennsylvania and parts of western New England throughout Monday night and into Tuesday morning.
Read More:
"In the Northeast, a wintry mix is expected from northeast Pennsylvania into central New England, while snow continues in northern New England," the Weather Channel reported Monday afternoon. "Slick travel conditions are likely, including for the Tuesday morning commute. Some scattered power outages cannot be ruled out in areas with the heaviest freezing rain accumulations. Snow or a wintry mix may linger in northern New England into Tuesday night."
Break out the winter boots and call the seasonal obscurity a wrap. It was fun while it lasted, wasn't it?