How Chance the Rapper Went From High School Fuckup to One of Chicago's Elite Artists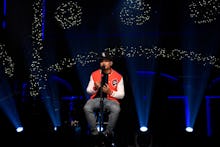 During his senior year of high school, Chancelor Bennett was suspended for "chiefin' a hundred blunts." That suspension lasted 10 short days, but it helped kickstart the transformation of an artist who's now become an indomitable cultural force in Chicago. During that suspension, the high schooler became Chance the Rapper; three years since the release of his debut mixtape, appropriately titled 10 Day, he's still making his presence felt.
On Friday, Chance the Rapper, now 22, announced that his charity initiative Warmest Winter has raised over $60,000 to help provide coats for Chicago's homeless population. It's but one example of Chance living up to the honor bestowed upon him in 2014 by Chicago's young people as "Chicago's Outstanding Youth of the Year." 
This year, he's gone on field trips with kids, hosted "Open Mike" events that gave aspiring Chicago artists the chance to perform alongside Chicago legends like Kanye West and Vic Mensa; and used his social media presence to sponsor Memorial Day anti-violence campaigns with #SaveChicago. He did all of this while releasing two of the year's most refreshing and innovative hip-hop records — Surf, led by Donnie Trumpet and the rest of the Social Experiment, and Free alongside the newly political Based God himself, Lil B.
Bennett's tireless dedication to his city didn't spring up overnight, though if fate had gone differently, fans may have never seen his rise. Yet he made it happen, driven by the motto tattooed over his heart: "Get back to work."
Finding Yeezus: Another proactive and provocative Chicagoan inspired Bennett to go into rap. In an interview with Hip-Hop DX, Chance the Rapper shared that the first album he ever bought was West's College Dropout. "The soul samples and the content — like what he was talking about — a lot of people weren't really talking about college and being institutionalized by school," Bennett said. "I could understand it on that level. I knew I didn't like school, so it was something I could relate to."
Music gradually took up more and more of his focus. In high school, Bennett faced teachers who mocked his aspirations to make a career in music but offered little to inspire him in turn. "This for every math class that I ever had," he raps on 10 Day's "Windows." "So fuck you if I failed, and fuck you if I passed!/ For shitty summaries and bummers in the past/ Cause some of our teachers act as if summer was for class."
He started working on the tape during his suspension and spent the next year recording it. In that time, he attended Harold Washington Community College but dropped out to focus more energy on his tape. However, it wasn't until he watched a friend, and fellow rapper, get stabbed to death in a fight that he got serious about his work.
"It was just a wake up call, kind of like, I'm young and I could definitely die in Chicago," Bennett told Hip-Hop DX. "It's not guaranteed that I'm going to be able to live a full day. I just started working way harder, recording more, shooting videos, got a manager, started playing more shows, and it just became more of a career for me and less of a hobby."
Bennett started touring more aggressively. After Childish Gambino's publicist saw Bennett perform at South by Southwest, he brought the two together to cut "They Don't Like Me" on Childish Gambino's Royalty tape. The two then connected for Gambino's Camp tour. "We're like big brother little brother," Childish Gambino said in an interview with XXL. "He's smart. He gets how music is an advertisement for a brand, and kids get his brand."
Gambino appeared on Bennett's second tape Acid Raps, which marked his takeoff. The tape showcased all the elements of Bennett's developing style — the quirky humor, the organic-sounding instrumentals, the street advocacy, especially potent on the hidden track "Paranoid," where he discusses the murder spikes that take place during Chicago summers. "They murking kids, they murder kids here," he spits. "Why you think they don't talk about it? They deserted us here/ Where the fuck is Matt Lauer at? Somebody get Katie Couric in here/ Probably scared of all the refugees, look like we had a fuckin' hurricane here."
The tape had a huge critical reception, earning him the title of Spin rapper of the year, a diamond certification from the Datpiff mixtape site and a spot in XXL's 2014 freshman class. Labels came clambering to sign Bennett, but he turned them down, feeling it was more important he enjoy artistic freedom than a fat paycheck. 
"I've got to really flex that unlimited capability of an independent artist," he told Billboard. "I can do whatever videos I want, I can play whatever shows I want, I can release when I want, talk how I want, freely, about any subject."
It seems he sees speaking out for his city as somewhat of an artistic obligation. This year he's slammed Spike Lee's Chiraq, calling it "exploitive and problematic."
"The idea that women abstaining from sex would stop murders is offensive and a slap in the face to any mother that lost a child here," he tweeted. 
Much of his latest music is dedicated to address the violence in inner city Chicago, such as "Angels" which he debuted on the Late Show With Stephen Colbert in October. He's got his work cut out for him in terms of addressing the rising crime rates. But by being on the ground, speaking directly to the youth with campaigns such as the Open Mike events and #SaveChicago, he thinks he can make a difference.
"You could easily throw an anti-Chiraq campaign or show, or go on the radio and talk about how bad it is," Chance the Rapper told Hot 97's Ebro Darden in October. "But when you're first-person engaging with the youth, they love when I come on a field trip with them or love when I'm throwing a free event. They trust me and understand my views. I can't necessarily save everybody that's my age, because people gotta make their own choices. I can't worry about what my contemporaries are doing. I have to worry about the future of Chicago."