Mel B Hints at Spice Girls' 20th Anniversary Reunion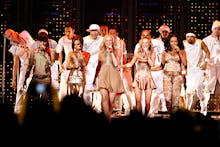 Andrew Francis Wallace/Getty Images
File under: Things that make millennials feel supremely old. 
The 20th anniversary of the Spice Girls' 1996 hit "Wannabe" creeps ever nearer, which — according to the Mirror — "can mean but only one thing," and that thing is the triumphant return to the stage of four out of five Spices. The Mirror reports that, based on Scary Spice's comments on Alan Carr's Chatty Man New Year's Eve Spectacular, Emma "Baby" Bunton, Geri "Ginger" Halliwell, Melanie "Sporty" Chisholm and Melanie "Scary" Brown are likely moving forward with their plans to reunite for an anniversary bash.
"I think I'm the one putting all the rumors out there," Mel B reportedly said, when questioned about the reunion. "To be serious, it is our 20th anniversary this year and it would be rude not to celebrate so hopefully something will be happening pretty soon."
While Scary Spice did not elaborate on what that something will be, the now-disbanded British girl group said in August that it planned to tour in celebration of the two-decade mark, albeit without Posh Spice (aka Victoria Beckham) who, according to the Sun, "insists she is too busy." The Spice Girls haven't appeared in concert together since the 2012 London Olympics, where the closed out the games in a concert staged partially atop the city's iconic black cabs. It was the first time the Spice Girls had performed live together since their 2008 reunion tour, which Beckham reportedly did not enjoy. Perhaps it's not her fashion line that's keeping her from signing on.
The Spice Girls released three studio albums, Spice, Spiceworld and Forever, plus a Greatest Hits record during their short but sweet time together. Eight of their songs cracked the Billboard Hot 100, with "Wannabe" climbing to No. 1 in 1997. The band was the product of a 1993 British talent search for five "lively girls" to form a pop group, according to MTV. They saw their first success with "Wannabe" in 1996, made the cult classic Spice World movie in 1997. The group began to lose their audience when Ginger Spice left to launch her solo career in 1998, according to MTV. They announced their breakup in 2001, to the dismay of pre-teens the world over. But the Spice Girls haven't disappeared entirely: Earlier this year, they graced fans with four new tracks from the Forever era.
Here's a throwback to get fans extra jazzed about the still-vague promise of a Spice Girls reunion: