"Affluenza" Teen Ethan Couch Found in Mexico, Could Face 10 Years in Prison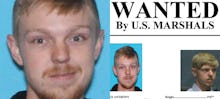 Mic/AP
Money can only get you so far: After a weeklong search to find 18-year-old "affluenza teen" Ethan Couch, who narrowly avoided serving jail time after killing four people in a drunk driving crash in 2013, he was detained Monday in the Mexican Pacific resort town of Puerto Vallarta along with his mother. It's believed Couch may have violated his probation by skipping town earlier this month after he was tied to a video that surfaced online and may show him drinking — a violation of his probation — shortly after he returned home from mental health treatment, CNN reported. 
Couch had been undergoing court-mandated psychological treatment after pleading guilty to intoxication and manslaughter charges. However, a potential 20-year sentence behind bars was reduced to a mere 10-year probation after his lawyers successfully argued his recklessness and endangerment of human life could be attributed to growing up rich. The American Psychiatric Association does not recognize affluenza as a medical illness, according to the BBC. 
U.S. Marshals released a warrant for his arrest, as well as the wanted posters seen above, in mid-December, just weeks after Couch returned to his family home in Texas. 
If he is found guilty of violating his probation, Couch could face 10 years behind bars, CNN reported. His mother, meanwhile, could face charges after being listed as a missing person in Texas for weeks. According to CNN, authorities suspect Couch's mother of helping him flee the country.
It had long been thought Couch hopped on a plane and fled the region, with local authorities attributing his wealth once again to his ability to escape punishment. "We fear that he has left the country," Tarrant County Sheriff Dee Anderson said earlier this month, according to Reuters. ""He got way out ahead of this and got away before any of us knew he was missing ... they [the Couch family] have lots of money, which gives them access to private planes and boats."
ABC reported an image Tuesday of Couch shortly after he was detained by Mexican authorities, showing he had dyed his hair dark and grown out his facial hair.