Photos of Flooding in Missouri Show Aftermath of Severe Storm Now Headed East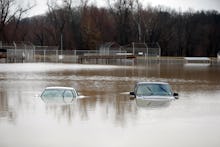 Jeff Roberson/AP
Floods, tornadoes and heavy storms brought dark clouds over the holiday season last week, as inclement weather tore through states in the central and southern regions of the country. ABC News reported at least 43 people were killed by severe storm conditions in Illinois, Texas, Missouri, Alabama Mississippi, Tennessee and Arkansas. 
Parts of northern Texas were hit with both tornadoes and snow, while the state of Missouri had deadly flooding. In Missouri, at least eight people were killed in the widespread floods, CNN reported. According to the National Weather Service, 50% of deaths due to flooding involve motor vehicles, as victims are swept up in rain water. 
Missouri Gov. Jay Nixon declared a state of emergency Sunday. 
"Widespread flooding and continued rainfall are causing very dangerous conditions across much of central and southern Missouri," Nixon said in a statement. "Multiple fatalities due to flash flooding have already been reported, and I urge Missourians in flood-affected areas to stay alert, avoid travel if possible and never drive into a flooded roadway. With more heavy rain expected tonight and tomorrow, state emergency management personnel will be working around the clock to keep Missourians safe."  
Here's a look at Missouri's fatal flooding:
Portions of the United States can expect more of the same extreme weather heading into the new year. CNN reported that the relentless storm system responsible for the onslaught of bad weather is heading eastward with snowfall expected on the east coast, particularly in Vermont and Maine. 
Here's what the NWS predicts: