YouTube Beauty Star Posts Powerful Reveal to Fans: I Faced "Severe Depression and Anxiety"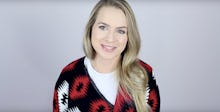 A few times a week, YouTube beauty vlogger Kayley Melissa posts a hair tutorial. Recent posts have ranged from how to get Princess Leia braids and Christmas morning hair to retro waves. But on Christmas Day, Melissa posted a video that was out of the norm.
Instead of teaching her nearly 900,000 YouTube followers about how to perfect 1920s finger waves or a tousled side bun, Melissa talked about living with mental illness.
In the video, titled, "Opening Up & Being Honest..." Melissa says she wanted to do something different on Christmas Day.
"Probably a lot of you noticed that I was gone for a lot of 2015 and a lot of you guys have wondered why," she says at the start of the video. "I was struggling a lot with severe depression and anxiety and it completely sidelined me." 
"I had dealt with depression in the past and I've had social anxiety my entire life, but general anxiety paired with major depression?" she says. "Totally different ballgame." 
Melissa goes on to say how her YouTube channel and her anxiety were related to each other. Partially because of her immense following, making videos became an intimidating, anxiety-inducing experience. The pressure of so many people watching had taken a toll — something other social media "celebrities" have also experienced.
"For some reason, I managed to associate my anxiety with my YouTube channel," she says. "And I became convinced in my deepest heart of hearts that if I was to upload a video, everybody was going to hate it and my career on YouTube was gonna be over." 
Although she's put on a brave face over the last few months by consistently posting every week, Melissa says she lived in fear of being rejected by her fans. Luckily, she says it was support from her fans that actually helped her, in part because they seemed eager to embrace this kind of authenticity and honesty online.
Recently, there's been a wave of backlash to the idealized images that typically go viral on Instagram. Beauty bloggers like Huda Kattan, who has over 9 million Instagram followers, are openly admitting that those perfect-looking shots take a lot of time (and even some airbrushing). In November, after years of posting only the most glamorous photos to Instagram, Stina Sanders replaced her moody vacation shots with "reality," such as pics of her bleaching her upper lip.
Sanders also started posting openly about her anxiety, making her just one more young woman to open up about living with a mental illness. It's estimated that 13% to 20% of children (ages 3 to 17) in the United States experience mental disorders. 
Melissa is opening up about her own struggles — and it's already making a difference for some of the over 70,000 people who've watched the video.
"Your story hits home to me," wrote one commenter. "I've always suffered some kind of anxiety [...] Reading articles about mental disorders and how to live with them has helped me a lot — it hasn't made my problems go away but it has helped me truly understand that I'm not alone.
"Once you feel fully comfortable with the topic, I'd love for you to make more videos about this. We need to get the word out into the world to end the stigma of mental illnesess [sic], for they are every bit as real as physical ones."
Watch Melissa's video below: