Connecticut Governor Wants to Revolutionize How the Justice System Treats Young Offenders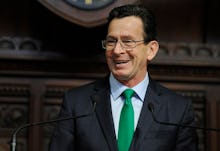 If you don't have the brain of a fully mature adult, you shouldn't be tried as one.
That's the simple principle at the heart of a proposal from Democratic Connecticut Gov. Dannel Malloy, who's urging lawmakers in the Nutmeg State to raise the age for trial as an adult from 18 to 21. Malloy also wants to make it easier for "low-risk" offenders between the ages of 21 and 25 to have their criminal records sealed or expunged.
The Wall Street Journal reported the Malloy administration is preparing a formal policy recommendation to present to lawmakers this February. If the reforms are enacted by the Democrat-controlled state legislature, Connecticut will become the first state in the country to raise the threshold for adult trials to 21. Until 2007, the Journal noted, Connecticut law allowed 16-year-olds to be tried as adults.
Behind the proposal: Malloy's initiative draws on research indicating that the prefrontal cortex, the portion of the brain involved in reasoning and decision-making, often isn't fully developed until the age of 25. Such research has prompted a rethink of criminal justice policy in recent years. In 2005, the United States Supreme Court voted 5 to 4 to ban the death penalty for juvenile offenders, with Justice Anthony Kennedy pointing to "scientific and sociological studies" to argue "it would be misguided to equate the failings of a minor with those of an adult," the Washington Post reported at the time. 
Speaking at a Justice Department event on young offenders in September, U.S. Attorney General Loretta Lynch seized on brain development research as evidence "that we may have a significant opportunity, even after the teenage years, to exert a positive influence and reduce future criminality through appropriate interventions."
To Malloy, who's championed criminal justice reform as vital to a "second-chance society," the research cries out for a policy response.
"Is it right that a 17-year-old can have a second chance, but a 22-year-old should not?" the governor asked during a symposium last month at the University of Connecticut School of Law. 
Malloy recounted a recent visit to Germany, which he said deals with offenders as juveniles until 21. 
"I believe that we can learn from their system," Malloy said. "Let us consider raising the age of the juvenile justice system's jurisdiction through age 20, instead of arbitrarily stopping that jurisdiction at 17."
In the speech, Malloy also urged steps to allow "low-risk" offenders 25 and under to "wipe the slate clean."
"We may want to consider allowing those in this age group to have their cases heard confidentially, their records sealed and the opportunity to have records expunged," he said.
Laurence Steinberg, a professor of psychology at Temple University and the lead scientist who helped prepare the American Psychological Association's Supreme Court brief opposing the juvenile death penalty in 2005, cast Malloy's proposal as "very reasonable."
"To me, the most persuasive argument is sociological, not neurobiological. What it means to be 18, 19 or 20 today is very different than what it meant when society set the age of adult prosecution at 18, a decision that was made more than a century ago," Steinberg told Mic. "In terms of the rehabilitative services they need, individuals between 18 and 21 who are in the justice system are more similar to teenagers than to people in their late 20s."
Still, skeptics of Malloy's proposal question whether it's appropriate to allow 18- to 21-year-olds to do things like vote and serve in the military, but to treat them as effective juveniles in the criminal justice system. Kevin Kane, Connecticut's top prosecutor, voiced such doubts to the Wall Street Journal, adding, "The concept certainly has some merit, but the details are complicated and really need to be explored in depth."
But Steinberg argues that proposals like Malloy's make sense from the standpoint of reducing recidivism and easing offenders' transitions back into society.
Young offenders "need higher education and mental health services," he told Mic. "The juvenile justice system is better equipped to provide these services than the criminal justice system is."